Kieran Wallace and Andrew O'Leary of KPMG have been appointed as joint provisional liquidators to Debenhams' Irish operations.
This follows Debenhams Retail (Ireland) presenting a petition to the High Court seeking an order for the winding up of the company and for the appointment of joint provisional liquidators.
In a statement, Debenhams Retail Ireland Ltd said it will support the joint liquidators in order to get the best outcome for employees and creditors in this situation.
"It is with great regret that Debenhams Retail Ireland has announced that, having explored all other possible alternatives, it has had no option but to apply to the court today to have a provisional liquidator appointed to the business," it said.
The company said it employed 957 people across 11 stores in Ireland.
It said it understood that this was a very difficult day for its employees, adding that unfortunately, the decision was forced upon it by the withdrawal of the support of Debenhams Retail Ltd in the UK after the appointment last week of an administrator to its own business there.
"As a result, legally, the directors of Debenhams Retail Ireland Ltd had no other option but to seek the appointment of a liquidator," it added.
It said the Irish operations, along with the rest of the Debenhams Group in the UK, had experienced very difficult trading conditions in recent years.
It said the business has been consistently loss-making and has relied on its parent company for ongoing financial support.
Despite entering into an examinership process in Ireland in 2016, it said the business has continued to make losses and its most recent audited accounts for the financial year ended September 2018 showed that it recorded a loss for the financial year of €21.625m.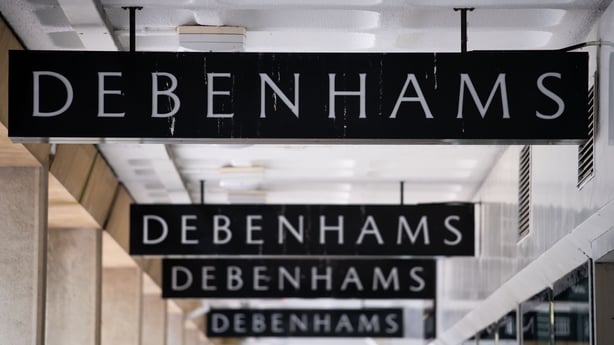 It also said the Covid-19 pandemic has caused serious further damage to Debenhams Retail Ireland Ltd's financial position.
"While the stores had remained open until three weeks ago, the business had experienced a sharp reduction in customer volumes and sales. On March 24, the Government introduced new measures to contain the pandemic which required non-essential retail outlets to close," it said.
Debenhams Retail Ireland Ltd said it was unable to continue to meet its obligations to creditors as they fall due and, crucially, is no longer able to rely on the support of the parent company, Debenhams Retail Ltd, to finance its cash outflows.
It noted that Debenhams Retail Ltd is itself in an insolvency process, and its administrators are conserving cash in an effort to ensure its survival.
They have made clear to the Debenhams' Irish operations that they cannot continue to provide the company with loans.
"The Irish business has no alternative source of funding," it added.
Debenhams Retail Ireland Ltd said it had taken professional advice and explored alternative options, including a restructuring through examinership.
"Unfortunately, the company has concluded that it is insolvent and unable to pay its debts, and there is no option but that it be wound up," it said, adding that regrettably there is no viable alternative.