Spending by consumers in the economy could be a massive 40% down this month compared to last year, according to research published today by the Central Bank.
The new research also shows that job vacancies in Ireland are on average almost a third down on a year ago.
The Central Bank has today lifted the bonnet on the economy's engine to give us a snapshot of the fast changing reality of the Covid-19 pandemic.
It is working on developing a number of real-time indicators of economic developments during the current crisis.
Using credit and debit card records, the Central Bank reveals that initially there was a surge of 22% in card transactions as consumers spent an extra €42m - mostly on stockpiling groceries - at the start of the coronavirus outbreak.
Since then, however, spending has continued to decline.
ATM withdrawals are now down 57% compared to the beginning of March.
The Central Bank estimated that if the trend continues this month, card spending and cash withdrawals will be €2.6 billion or 40% down on April last year.
---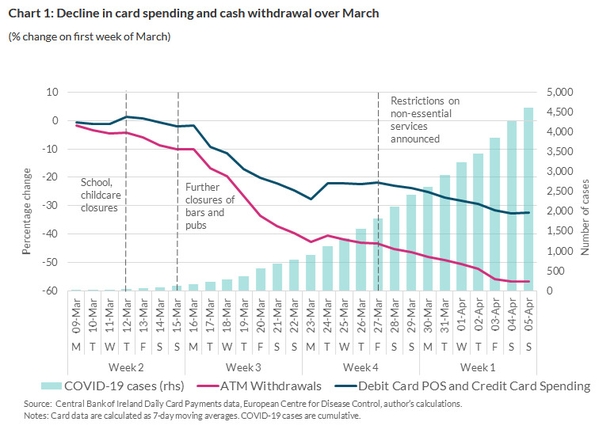 ---
The bank also noted that the average ATM cash withdrawal amount has increased markedly in the days around and since the school closures announcement on March 12.
This was combined with a lower number of transactions at ATMs, suggesting that people were concentrating their cash withdrawals into a small number of ATM visits.
The average withdrawal increased from €137 in the first week of March to around €178 by the first week of April.
In the previous 12 months, the average withdrawal was relatively stable and equated to around €133 per transaction.
The Central Bank also teamed up with jobs website Indeed to show that overall job offers were down 32.2% at the start of April compared to a year ago.
Jobs particularly impacted by the Covid-19 restrictions like hospitality and tourism are down 76%, while food preparation and services are down 68%.
Countries with a higher share of employment in these occupations - such as Ireland and the UK - have seen some of the largest declines in online job postings on Indeed.
Indeed said that job postings have generally fallen by 30% to 40% in countries with a higher proportion of employment in occupations with lower work-from-home potential.
This includes Ireland, the UK, Portugal, Spain, Canada and Australia where the percentage of employment in lower work-from-home occupations ranges from 50% to 60%.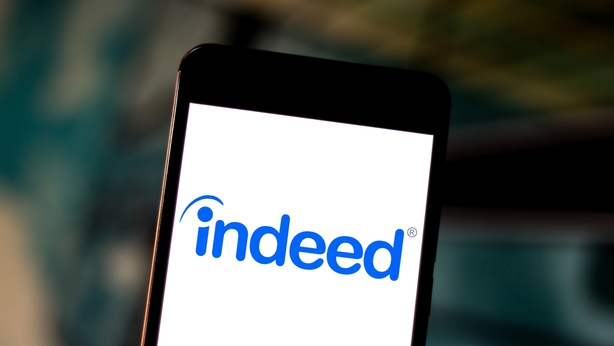 Economist Pawel Adrjan said that with things changing so rapidly, this real-time data allows us to see the areas most affected, and therefore in need of more help, quickly.
He said this can help buy employers and policy-makers crucial time to allow them to prepare and make adjustments, as they try to navigate through this worrying time.
"The recruitment process has changed dramatically in recent years and now most job opportunities are online, so it makes sense for us to use this data to examine the impact of the current situation on the labour market," Pawel Adrjan said.
"We can see the pandemic is having a large impact by looking at the fall in hiring intentions. Job postings have fallen everywhere, however our research shows that not all countries or industries are equally affected," he added.