Penneys has become Ireland's most valuable brand for the first time, after recording a 9% rise in brand value to €2.4 billion last year.
The retailer has overtaken AIB in second position (and a brand value of €1.9 billion) and long-standing leader, Guinness, whose brand value fell by 24% to €1.9 billion last year.
Brand Finance Ireland said that 2019 marked a strong year for Penneys, with the retailer - which trades as Primark outside of Ireland - celebrating 50 years in business.
It said that Penneys/Primark continued to defy the high street's gloomy slow down with strong sales performances and consistent store openings throughout the year. The brand now has 370 stores across 12 countries.
But as of April, the retailer has been forced to close all its stores globally, suppliers have been warned that no new orders will be processed and executive staff's pay has been cut by up to 50%.
With the store closures expected to equate to a staggering €705m monthly loss in net sales for the company, Brand Finance Ireland said the retailer has "a turbulent journey" ahead.
Simon Haigh, Managing Director of Brand Finance Ireland, said only time will tell whether the retailer can hold on to its spot at the top of the rankings in the long-term during these "unprecedented times".
Mr Haigh said that despite having managed their way through the three and a half years of protracted Brexit uncertainty, the leading Irish brands are now facing even more uncertainty in 2020.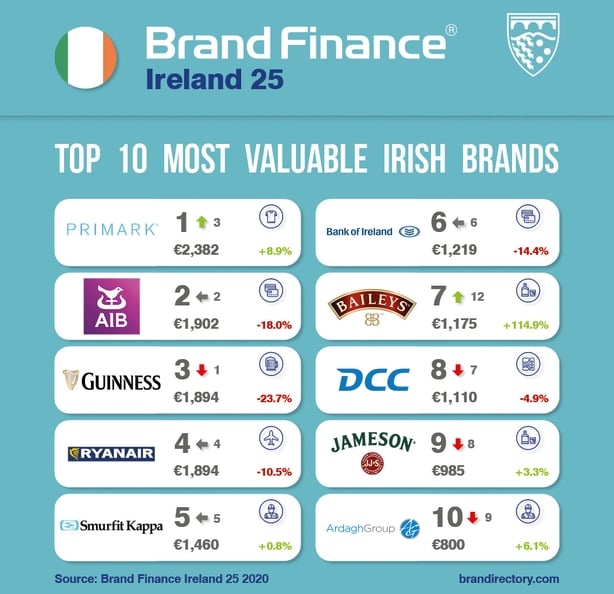 "It is anticipated that there will be a limited impact from the Covid-19 pandemic on the food brand owners, Glanbia and Kerry Group, in this year's top 25 ranking, but the banking (AIB, Bank of Ireland, Ulster Bank), apparel (Penneys/Primark), and aviation (Aer Lingus and Ryanair) brands face a challenging year ahead," he added.
Brand Finance Ireland said its Covid-19 impact analysis shows that the top 25 most valuable Irish brands could potentially lose up to 14% of brand value cumulatively, equalling a drop in total brand value from €20.4 billion to €17.5 billion.
Today's survey shows that Irish banking brands did not fare well this year, as all three brands in the ranking recording a decrease in brand value. AIB and Bank of Ireland were the the third and fourth fastest falling brands respectively.
Brand Finance Ireland said that Irish banks have been suffering as a result of the fragile global economy and political landscape. With banks in the heavily impacted bracket in its Covid-19 analysis - equating to a potential 20% brand value loss for banks globally - it said the road ahead looks similarly rocky.
However, the Irish food sector falls within the low impact bracket, and both Glanbia's and Kerry Group's brands should be somewhat shielded in the coming year compared to their fellow Irish brands.
According to the latest survey, Baileys has claimed the title of the fastest growing brand, recording a "staggering" 115% brand value growth to €1.2 billion.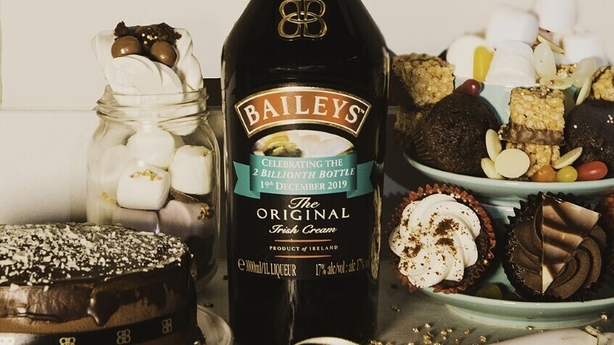 But Brand Finance Ireland calculated that spirits brands could potentially lose up to 10% of their brand value after the coronavirus pandemic, therefore falling into the moderately impacted bracket.
It noted that Baileys' parent company, global drinks company Diageo, has already warned of a significant sales hit, estimated at just over €200m, as the brand suffers with bar and pub closures as well as travel restrictions, which are significantly impacting airport sales.