The Construction Industry Federation is asking for building sites to be allowed to remain open, even if the Government announces tighter restrictions today.
The CIF, which represents building employers, said its member companies are continuing to deliver construction contracts while adhering to recommended health guidelines. 
Dermot Carey, Head of Safety and Training with the CIF, said the construction sector is "vital for the continuation of the economy". 
Mr Carey said the CIF continues to work with members to develop health and safety protocols. 
"I'm not naive to say this is an easy task", he said.
"It's not, it's a difficult task. Our advice to members is that you must comply with the advice of public health professionals. If you can't, you need to sit down with your clients and you need to consider how you should proceed," he said. 
Mr Carey also said that there is "no doubt" that deadlines are going to be missed.
He said the CIF are actively working with clients to give assurances to contractors and workers that there will not be any liability held to them in the event of non-performance of contracts.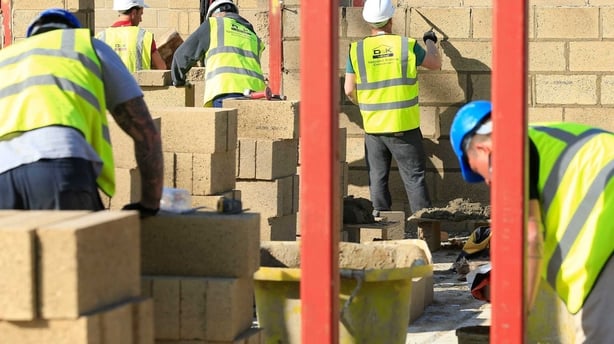 However, Unite's National Construction Branch has called on the Government to close construction sites throughout the country subject to a wage compensation scheme such as that proposed by ICTU.  
The union held an online meeting last night which heard that adequate social distancing measures cannot be maintained on sites during the current Covid-19 situation. 
The meeting also called for any wage compensation measures to be extended to "bogus self-employed" workers, to whom a presumption of employment should apply.
Unite's Regional Officer for Construction Tom Fitzgerald said that it has become increasingly clear to union members, who work on sites throughout the country, that adequate social distancing cannot be maintained either on site or, in many cases, when travelling to and from sites. 
"The result is that approximately 150,000 construction workers are not only themselves susceptible to the spread of Covid-19, but are also at risk of bringing the virus back home to their families and communities - further increasing the strain on our health services," he stated.
Mr Fitzgerald said that Unite is concerned that, as the situation escalates, responsible employers may close site and find themselves effectively undercut by irresponsible employers whose sites remain open, putting workers and the general public at risk.
Speaking on RTÉ's News at One , Mr Fitzgerald called for "big business like Apple", to help foot the bill to protect construction workers pay. 
He said there will be particular circumstances where construction workers could be deemed to be essential, and he cited the examples of building hospitals, pharmaceutical plants or other important projects to the healthcare sector. 
"We do need a sensible approach. Some workers within the construction industry will be essential but the vast majority of the 150,000 in the sector won't be. But this has to be done while protecting workers pay and we believe the money exists and it should be prioritised to protect workers and their families."
The money used to protect workers should come from Apple or other big business according to Mr Fitzgerald, but he also said that "there is no reason why the Government can't guarantee at least 80% of workers' wages", like the UK have done, he said.
He said: "Workers need protection so that they can make the correct decision so that we can collectively tackle the virus properly."
John Regan, the Construction Sector Organiser with SIPTU, says workers have not been raising concerns with him in relation to working on building sites.
"Workers are applying the safety requirements that the HSE have put out", he told RTÉ's Morning Ireland programme.
"Social distancing is very much to the fore. Staggering of breaks, altering of times for people to be in canteens, and clocking in purposes are all altered to allow a smooth distancing of workers," he stated.
Mr Regan said construction is a little bit more than "just building houses", as it is also responsible for essential services like gas, sewerage and water that "keep this country of ours ticking over".
Facebook suspends work on Clonee data centre
Facebook has temporarily suspended work on the expansion of its Clonee data centre. 
The social network firm said the decision was taken together with building contractor Mace "to protect the health and safety of people who work on our construction sites and the wider community during the Covid-19 outbreak".
Work will be wound down and the site secured over the coming week by a reduced workforce.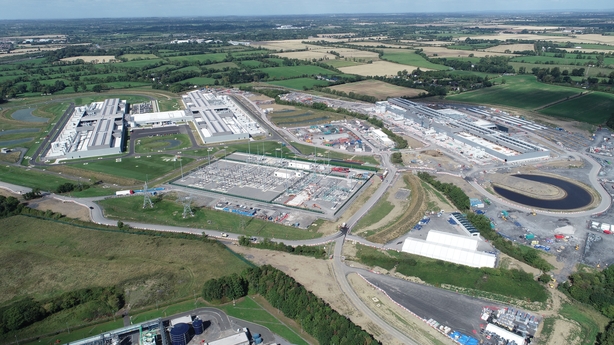 A spokesperson for the tech giant said it is looking forward to welcoming workers back on site as soon as it is safe to do so. 
The company could not comment on whether work was being suspended on the site of its new international headquarters at the old AIB bank centre in Ballsbridge in Dublin. 
That is because the developments there are owned by unconnected companies and Facebook will be leasing the offices from them on completion. 
It said it is therefore a matter for those companies to decide what health and safety measures need to be put in place. 
It is understood, however, that Facebook intends to pay an "appreciation bonus" to workers who are temporarily being removed from the Clonee data centre site. 
The firm is also working closely with Mace, to ensure it is supporting the local labour force.