European stock markets recovered some ground from their worst day ever, as signs of a US stimulus package helped soothe fears about an economic shock from the coronavirus pandemic.
After Wall Street's worst daily selloff in more than three decades, indexes recouped some of their losses on optimism that US Democrats and Republicans could announce a stimulus package soon.
The Dow Jones had jumped 3.6% in US trade this evening, while the Nasdaq Composite also climbed 3.6% higher.
European stock markets continued to bounce back today after their worst day ever yesterday.
While off their earlier highs, shares in London closed 2.4% higher this evening, while the Paris CAC was up 1.8% and the Frankfurt DAX had gained 0.5%.
After posting losses of 10% yesterday, the Dublin market closed 0.4% higher afternoon with shares in Kerry Group and Glanbia making strong gains.
European markets had crashed yesterday on rising fears of a liquidity crunch after the European Central Bank decided to keep interest rates steady. 
The crash erased over $1 trillion from the value of European firms and plunged the MSCI world index firmly into a bear market.
But sentiment stabilised this morning after indications that US Democrats and Republicans could soon agree on a stimulus package.
Meanwhile, Asian equities tumbled in earlier trade, extending a global rout that saw markets experience their worst day in decades as fears of a worldwide recession caused by the coronavirus pandemic wiped trillions off valuations.
Shellshocked investors fled for the hills as governments across Europe and in the US struggled to get a grip on the crisis that has swept the planet and shut communities down. 
Central bank moves to support financial markets have also failed to staunch the bloodletting, while Donald Trump's decision to shut the US border to European travellers added to the panic. 
Analysts said that markets remain in a freefall as uncertainty persists with no reliable anchor which can create near-term stability.
However, after a morning session wipeout across Asia, most markets clawed back losses, even if they were still in negative territory as traders picked up bargain-basement stocks.
Tokyo, which fell as much as 10% at one point, ended down 6.1%, while Hong Kong closed 1.1% lower after plunging around 7% earlier. 
Seoul, Bangkok, Manila and Singapore all managed to cut their losses by more than half, while Mumbai edged higher just hours after a trading halt kicked in because it had fallen more than 9%.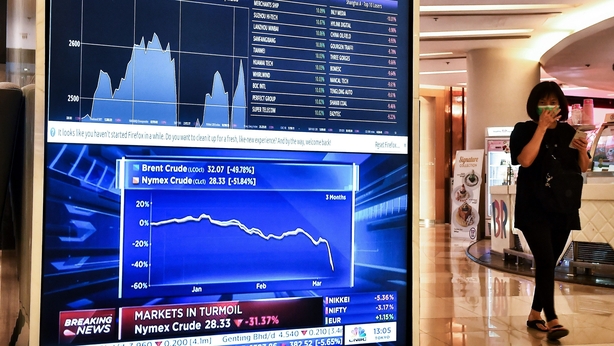 Shanghai was down less than 1% as the number of new cases in China, the centre of the outbreak, shrinks and people slowly return to work in the worst-hit areas.
But the standout was Sydney, which swung more than 12% to end 4.4% higher. 
Analysts said that despite continued uncertainty over the coronavirus spread, some market players with more optimistic outlooks will see current levels as good buying opportunities for medium and long term plays. 
Even oil prices, which have been ravaged this week, were more than 2% higher after a quick intra-day turnaround.
But trading floors remain nervous places following a virtual implosion on Wall Street and in Europe yesterday. 
The Dow Jones lost 10% in its worst session since 1987, while London also had its worst day since that year. 
Frankfurt had its blackest day since 1989, the year the Berlin Wall fell, while Paris suffered its biggest one-day loss on record.
Analysts said Trump's ban on travel from Europe deeply rattled investors, and measures intended to shore up business and markets were proving insufficient. 
The New York Federal Reserve announced measures to inject an additional $1.5 trillion into financial markets this week and launch a bond-buying programme.
The European Central Bank also unveiled emergency efforts but did not include an interest rate cut.