Wall Street's main indexes dropped 7% and the Dow Jones crashed 2,000 points in what would be its biggest one-day fall ever in opening trade today.
Trading on US stock exchanges was halted immediately after today's opening as the S&P 500 fell 7%, triggering an automatic 15 minute cutout put in place after the 2008-9 financial crisis.
Saudi Arabia's move to raise oil production significantly after OPEC's supply cut agreement with Russia collapsed sent ripples across global financial markets already panicking about the impact of the coronavirus outbreak.
Crude oil logged its worst day in almost three decades, sending oil majors Chevron Corp and Exxon Mobil down more than 9%. The energy index slumped 20.1%. 
At 5.20pm Irish time, the Dow Jones was down 1,702 points (6.57), at 24,162 and the Nasdaq Composite was down 428 points (5.02%) at 8,102.
European shares plummeted across the board by close as a lockdown in northern Italy due to coronavirus outbreak and a 30% plunge in oil prices amplified fears of a global recession. 
London's commodity-heavy FTSE 100 closed down 7.6% this evening. 
Shares of oil majors BP and Royal Dutch Shell were down more than 20% at one stage. The top decliner in London was Tullow Oil, with an eye-popping 57% drop at one point, but recovered to close 30% lower.
Shares in Frankfurt and Paris were down over 8% at close.
The Dublin market closed down 6.4% in afternoon trading, with the banks seeing very heavy falls. Shares in Bank of Ireland had slumped nearly 16%, while AIB was down over 14%.
Europe's oil and gas index tumbled 7.3%, with crude prices in a free fall after Saudi Arabia started a price war by slashing its official selling price and setting plans for a dramatic increase in crude production next month.
Italy became the frontline of the crisis in Europe after the government ordered a virtual lockdown across much of its wealthy north, including the financial capital Milan, in a drastic new attempt to try to contain the outbreak.
Global share markets had plunged earlier this morning as panicked investors fled to the safety of bonds and the yen to hedge the economic trauma of the coronavirus.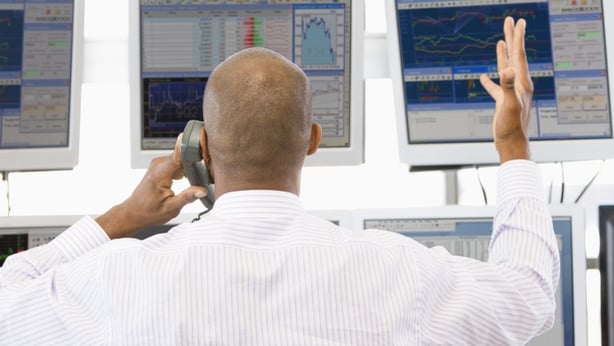 Oil plunged more than 30% after Saudi Arabia opened the taps in a price war with Russia. 
Saudi Arabia had stunned markets with plans to raise its production significantly after the collapse of OPEC's supply cut agreement with Russia, a grab for market share reminiscent of a drive in 2014 that sent prices down by about two thirds.
The shock in oil was seismic as Brent crude futures slid $12 to $33.20 a barrel in chaotic trade, while US crude shed $11.80 to $29.48.
In Asia, stocks tumbled, the safe-haven yen surged and emerging market currencies with exposure to oil tumbled in volatile trade. 
Japan's Nikkei index dropped over 5% and Australia's commodity-heavy market closed down 7.3%, its biggest daily fall since the 2008 global financial crisis. Shares in Hong Kong were down over 4%.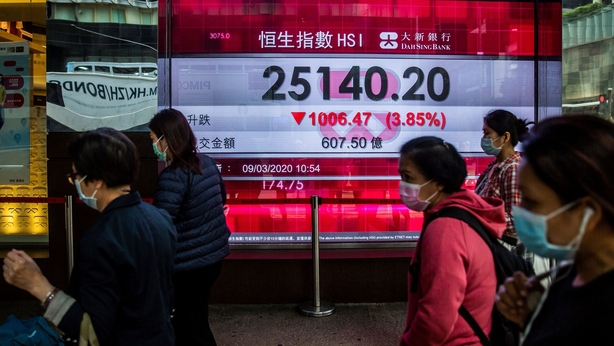 The number of people infected with the coronavirus topped 107,000 across the world as the outbreak reached more countries and caused more economic carnage.
Not helping the mood was news North Korea had fired three projectiles off its eastern coast today.
Urgent action was clearly needed with data suggesting the global economy toppled into recession this quarter. 
Figures out from China over the weekend showed exports fell 17.2% in January-February, from a year earlier. 
Analysts at Bank of America Global Research estimated the latest sell-off had seen $9 trillion in global equity value vaporised in nine days.