Irish Distillers, which makes Jameson Whiskey, said it sold 4.6 million cases of the whiskey in the six months to the end of December, an increase of 9% on the same time the previous year. 
Irish Distillers also recorded the single largest sales month in history, selling a total of 940,000 cases in December 2019. 
During the six month period, Germany saw growth of 34%, while Russia reported 14% growth, with impressive growth also seen in Canada (up 13%), South Africa (up 12%) and the UK (up 10%). 
The company said that key emerging markets for Jameson experienced 37% growth, buoyed by markets like Nigeria, which saw a jump in sales of 185%. Sales in China also soared by 76% and in India by 47%.
Irish Distillers noted that global travel retail also continued to grow, partly due to the successful launch of Jameson Triple Triple in July 2019. 
The company also saw strong growth across the rest of its whiskey portfolios in the first half of the year, with Redbreast sales up 24%, on the back of growth in the US, the UK and France. 
Conor McQuaid, chairman and CEO of Irish Distillers, said that the company sold one million cases of Jameson for the first time in 1996.
"In 2010, we cracked three million and today we are celebrating the eight million case mark (for 2019)," he added.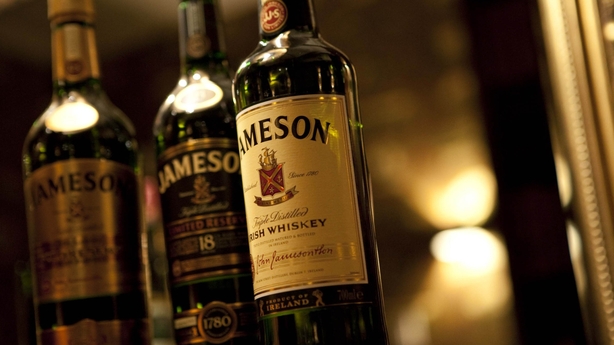 "In the US, we sold two million cases of Jameson during a six-month period - another first. Jameson has been driving the growth of the Irish whiskey category for the past 30 years, and as these results show, it continues to thrive, and we are incredibly proud of this growth," Mr McQuaid said.
He also said that Irish Distillers' brand homes in Bow Street in Dublin and Midleton in Cork continue to thrive, with visitor numbers reaching almost half a million in 2019. 
"In December 2019, Jameson Distillery Bow Street was named the World's Leading Distillery Tour at the World Travel Awards for the second year in a row," he added.
Meanwhile, the owner of Irish Distillers - Pernod Ricard - said it was cutting its full-year profit growth outlook for 2019-2020 as the coronavirus epidemic in China was likely to have a severe impact on its third quarter performance. 
The French spirits company makes 10% of its sales in China.
It said it could not currently predict the duration and impact of the crisis but added that it nevertheless remained confident on its overall corporate strategy. 
Pernod, the world's second-biggest spirits group behind Diageo, is now targeting an organic rise of between 2%-4% percent in profit from recurring operations for the year ending June 30, 2019. 
This compares to a previous forecast for 5-7% growth. 
Pernod, which also makes Martell cognac, issued the forecast as it posted first-half results that nevertheless beat forecasts, helped by cost cuts and shipments tied to the earlier timing of the Chinese New Year. 
First-half profit from current operations reached €1.788 billion, an organic rise of 4.3%, which was above analysts' expectations for a 3% rise. 
Sales reached €5.474 billion in the six months to December 31, representing an organic rise of 2.7% which was also above analysts' expectations for 2.1% growth.