The chief executive of KBC Bank Ireland is not ruling out selling bundles of family home mortgages that are not being repaid properly, in order to reduce the level of bad debts on the lender's balance sheet.
But Peter Roebben said the bank is not looking at that option at present.
KBC Bank Ireland has previously resorted to selling non-performing corporate and buy-to-let loans, in an effort to get its bad loan level - currently 16.4% - down closer to the 5% target set by regulators.
So far, though, it has not done this with primary dwelling homes (PDH), even though Mr Roebben acknowledges the level of non-performing loans (NPLs) is well above peers and where it needs to be.
"This is a very sensitive matter, these are people's homes, so we have always decided to tread very carefully and our preference has been to try to work through restructurings," he told RTE News.
"We have always said look, loan sale...is a legitimate instrument if you have to address your non-performing loan book at some point in time, you might want to have a look at. At this point we are not looking at this."
Mr Roebben added that the issue is one where regulation and regulatory views have a big impact. "So we continue to look at those continuously and we will see how the regulator's position evolves over time," he said.
The Irish arm of the bank has the formal backing of the KBC Group, he said, and its NPL level is below 5%.
Without referring to any party, Mr Roebben also addressed claims made during the general election campaign that some banks operating here do not pay taxes.
"In our case, we paid €11.4m in taxes last year, we paid €31.8m in bank levy," he claimed.
"In 2018 we paid €18.5m in bank levies. So we really substantially increased the contribution in terms of (the) bank levy. Add those two things up last year we have a tax rate of 51%."
However, even though the share prices of AIB, Bank of Ireland and Permanent TSB have all lost significant value due to the political uncertainty that has followed the general election, Mr Roebben would not be drawn on what the bank's preference would be for the make up of the next Government.
"We will work under any Government that is finally put in place, I think we are neutral on that," he said.
"The changes in politics are a part of life and we see them in all the countries that we are active in. And so I don't really have any strong view."
The bank boss said KBC Bank Ireland is not expecting to have to put aside more money to deal with the tracker mortgage controversy.
That is despite AIB's move last week to make a €300m provision to cover possible further redress payments to tracker customers, following a preliminary ruling by the Financial Services and Pensions Ombudsman.
"No, I think the AIB case is a very specific case...from what we know from the AIB case we do not have a similar cohort," he said.
He also rejected the suggestion that KBC Ireland's efforts to win back public trust had been set back by comments about the tracker controversy made last year by KBC Group chief executive, Johan Thijs, for which he later apologised.
"I've been here long enough to have a proper understanding of what I would say the divide that has occurred, that has emerged here between, let's call it Irish society and the financial sector, and KBC is part of the financial sector," he said.
"It is a real issue, I think it is raw still. I think my job and that of my executive committee is to continue working on that. In that sense, a setback, no I think it has not stopped us, if anything we are even more aware of the necessity of step by step rebuilding the trust."
"It is not going to be easy, I think, also not for KBC Ireland to win back that trust. On the other hand I do take encouragement from the fact we are able to grow the customer book so substantially also last year, so there must be a number of things we are doing better that we are doing right. But we have a long way to go."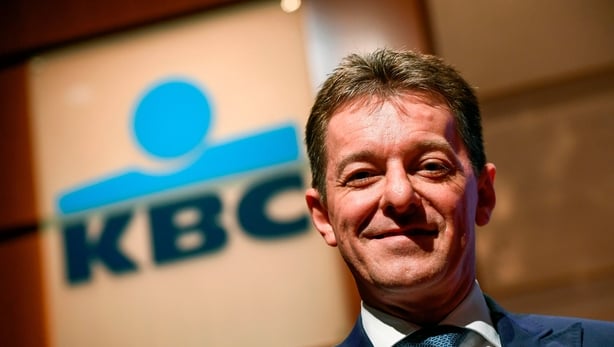 Mr Roebben was speaking as KBC Bank Ireland reported reported lower net profits of €32.3m after tax and impairments for 2019, down from €162m a year earlier.
The bank said this included an exceptional loss of €11.1m relating to the sale of the legacy performing corporate loan portfolio, worth about €260m, to Bank of Ireland in June.
During last year, the bank also took an €18m charge relating to the Central Bank's tracker mortgage examination, setting aside €14m for a potential fine. 
About 3,700 KBC customer accounts were impacted by the tracker issue.
The bank said today that its impaired loans stock reduced by 32% to €1.656 billion at the end of 2019, bringing its non-performing loan ratio to 16.4%.
Its mortgage lending hit €1.122 billion last year, the strongest year since its launch of the retail bank here in 2013.
Meanwhile, KBC Bank Ireland's share of the Irish mortgage market increased to 11.8% in 2019 from 10.8% in 2018, while it noted that mortgage applications were up 11% year on year.
A total of 38,000 new current accounts were opened at the bank last year and it said its total customer numbers rose by 6% to 303,000.
The bank's Belgian parent company, KBC Group, ended the fourth quarter of 2019 with a net profit of €702m. Its net result for the full year 2019 reached €2.489 billion.
- additional reporting by Glenda Sheridan