Independent property firm HWBC is anticipating another strong year for the commercial property sector on the back of continuing strong demand from companies in the technology sector.
HWBC also said worries that Aviva's decision to stop investors withdrawing from two Irish funds is a possible signal of a commercial property market downturn are misplaced.
Tony Waters, Managing Director of HWBC, said there is no shortage of commentators looking to call the top of the Dublin office market.
But he stated there is every indication that there is still solid demand from institutional investors and occupier fundamentals of the market remain strong.
"The recent decision by Aviva to shut the gate on investors looking to exit is not the canary in the coalmine telling us the market has turned," Mr Waters said.
"It has been caused by retail investors taking money off the table after making large gains in recent years.
"Some investors have also recognised the upside of switching their money into the shares of REITs which are trading at a discount to their net asset value," he said.
"We may not see double digit investment returns in 2020, but we see the market remaining buoyant," Mr Waters predicted.
HWBC believes that prime Dublin city centre office rent levels will remain at levels of about €65 per square feet in 2020, with 12 to 15 year leases typical from occupiers.
It said that construction of new office space has been well controlled to meet specific demand in this cycle, with 53% of the 4.7 million square feet of space due for competition over the next two years already pre-let.
Overall demand for new office space in Dublin is running at 3 million to 4 million square feet, with the likes of An Post, PTSB, KPMG and Google looking for more office space.
It noted that the top 10 letting deals in 2019 were dominated by large technology companies including Facebook, Amazon, Salesforce and LinkedIn.
---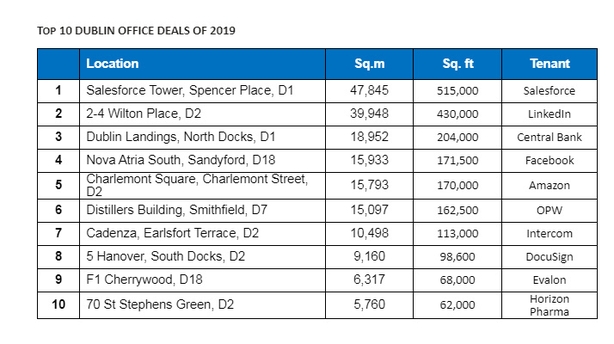 ---
Although domestic occupier interest waned in 2019 due to Brexit uncertainty, it has picked up following the decisive UK election result and is bolstering current demand, particularly for smaller sites.
Meanwhile, in the suburban market, HWBC is expecting further rental growth in 2020, from current levels of €30 to €35 per square feet for Grade A developments.
Available supply of prime space in Sandyford includes One South County which was completed during the summer.
"We expect all Grade A space currently being completed to be let during 2020, and there is a looming shortage for occupiers seeking new space in Sandyford until at least 2023," the company said.
HWBC also said fears about the impact of WeWork's failed IPO last year and funding pressures have not hurt the Dublin market as was feared back in October.
"Whilst the co-working and serviced office segment of the market has been growing rapidly in recent years it still only occupies a very small proportion of the overall office stock," it added.