Ryanair has submitted an offer to Boeing for a new order of its grounded 737 MAX jets but does not expect to finalise it until the plane returns to service, group chief executive Michael O'Leary said today.
Ryanair made the offer for an undisclosed number of 737 MAX 10 jets, a larger model than the MAX 200 model the airline currently has on order, Michael O'Leary said.
He made his comments on a conference call after the airline earlier released its financial results for the last three months of 2019.
"We are already in discussions with Boeing. We have an offer on the table for an order for new MAX 10s, which is a 230-seat aircraft," the CEO said.
"To be fair to them I don't think the new management team is in a position to be able to talk to us about a new order," he said.
"We understand that, but we have an offer in and we expect to be at the head of the queue," he added.
Ryanair is one of the biggest customers of the MAX, with 210 currently on order.
It was due to take delivery of the first 55 in time for this summer but now expects them by the summer of 2021.
"We expect to reprice the (MAX) 200 order we already have and we would expect to put in place or agree a deal with Boeing on new aircraft pretty soon after the return to service has been resolved," Michael O'Leary said.
"Airbus have now had a 12 and 18 month lead over Boeing in terms of aircraft orders and the new management team at Boeing need to be capturing back that lead and the starting point should be their biggest existing customers, which is Southwest and Ryanair," he said, referring to US airline Southwest Airlines.
Earlier, Ryanair reported higher profits and revenues for its third quarter thanks to a stronger festive trading period compared with one year earlier.
The news sent its shares 5.8% higher in Dublin trade.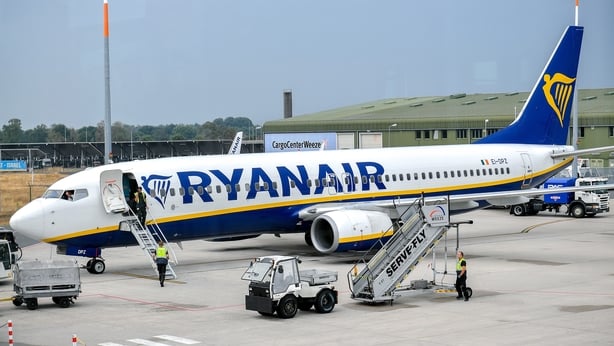 Ryanair said its profit after tax stood at €87.8m in the three months to December 31, compared with a net loss of €66.1m in the group's third quarter of its 2018/19 financial year.
Passenger numbers grew by 6% to 36 million during the period, while revenues jumped 21% to €1.91 billion, the airline added.
The company noted good demand for priority boarding and preferred seats, which saw its ancillary revenues rise by 28% to €0.72 billion.
But Ryanair said it may have to push back its long-term target of flying 200 million passengers per year by as much as two years due to delays in the delivery of Boeing's 737 MAX jet.
Ryanair is one of the biggest customers of the grounded jet, with 210 on order.
It hopes to have its first 55 jets flying by summer 2021, a year later than originally planned, with 50 more planes per year due for each of the following three summers.
But group chief executive Michael O'Leary suggested Boeing's delivery schedule could ultimately be up to two years late - meaning it may hit its long-term 200 million passenger target by March 2026 rather than March 2024.
"What is likely is they will push out that delivery profile with Boeing by at least 12 months," O'Leary said in a pre-recorded video presentation in which he was asked about the impact of Boeing's decision to temporarily halt the production of the MAX.
"At best that means we will have to roll forward our plans to fly 200 million passengers per year by at least 12 months, possibly 24," he said.
Ryanair's chief financial officer Neil Sorahan, asked by Reuters if there was any risk to its plans to take delivery of 55 planes by next summer, said: "I don't believe so, but we have been disappointed before."
Boeing in January said it did not expect the MAX, which was grounded after two fatal crashes, to return to service until mid-2020.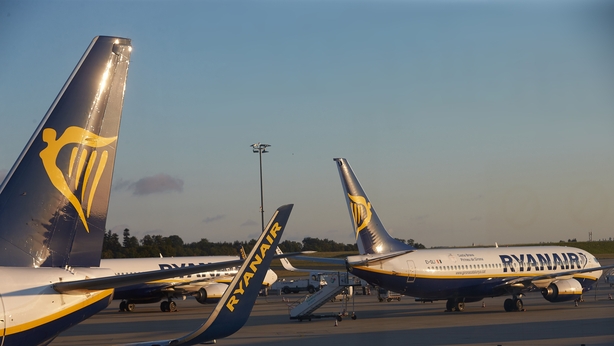 Ryanair, which does not take deliveries during its summer peak of June-August, said today it did not expect to receive the first MAX jets until September or October 2020.
It will take a maximum of eight planes per month, or around 50 deliveries per year, Michael O'Leary said.
The 737 MAX, Boeing's fastest-selling aircraft, was grounded in March after 346 people died in two crashes attributed to the plane's anti-stall software.
Today's figures come weeks after Ryanair raised its profit forecast to between €950m and €1.05 billion for its financial year to the end of March, versus the €800-900m range it forecast in November, citing a better-than-expected performance over Christmas and New Year.
Analysts said the delay of MAX deliveries has reduced capacity in Europe, pushing up fares.
Ryanair said the MAX delays had forced it to close a number of loss-making winter bases, leading to some crew redundancies in Spain, Germany and Sweden, but CFO Sorahan said the number of redundancies was very small.
Ryanair also announced today that its Environmental Policy commits the airline to being plastic free in five years and to cut noise emissions by up to 40% per seat.
It also said it will cut CO2 emissions by 10% by 2030 and encourage its customers to support its voluntary carbon offset programme.