The EU Trade Commissioner has said the European Union is ready to do "an ambitious and comprehensive new partnership with the UK" after Brexit.
But speaking on the sidelines of the World Economic Forum annual meeting in Davos, Phil Hogan indicated the UK imposed deadline of the end of the year will be challenging if a comprehensive free trade agreement is to be done.
"The decision for the UK will be on how much they want to diverge from the single market and their rules and of course that has implications for the UK as well as for the European Union," he said during a press conference.
"It is a big challenge between now and the end of June for the United Kingdom to decide whether they want to have a transition or not. In legislative terms they have decided that they don't want it," Mr Hogan said.
"So we have to prioritise in relation to what we can achieve between now and the end of October, early November in order to get the approval done by December 31," he added.
Mr Hogan later told RTE News that the more divergence there is away from the single market and its rules, the more difficulties there will be for the UK.
"The more deadlines of a short term that you put in place means it is not going to be possible to do the comprehensive agreement that we would like to have to give certainty and predictability to our businesses as well," he said.
"So we have to prioritise and we have to discuss this with the United Kingdom in the coming weeks."
Mr Hogan described the first meeting between President Trump and the new European Commission President, Ursula von der Leyen on Tuesday, which he also attended, as constructive.
Just spoke to EU Trade Commissioner, @PhilHoganEU in #Davos2020 about US/EU trade talks, digital tax, EU/UK post Brexit trade deal and more. pic.twitter.com/mGCFUyKUoC

— Will Goodbody (@willgoodbody) January 23, 2020
Asked if he was concerned about Donald Trump's threat of new tariffs on European car imports if a new trade deal is not done quickly between the US and EU, Mr Hogan said President Trump sees tariffs as a very important weapon in order to get people's attention and he succeeds fairly well in doing that.
"But at the end of the day, what I'm interested in is having a positive agenda around trade between the United States and the European Union and that is what we are going to work on," he said.
He said any new agreement would focus on trade, technology and energy as the EU cannot open any new mandate to include agriculture in the same way as the US cannot open a mandate for public procurement or for maritime issues, which is what the European Union is requesting.
"At the same time we can look at non-tariff barriers in relation to agriculture on both sides to see how we can unlock the potential of these barriers to trade to give farmers and agribusiness a better opportunity on both sides to trade with each other," he added.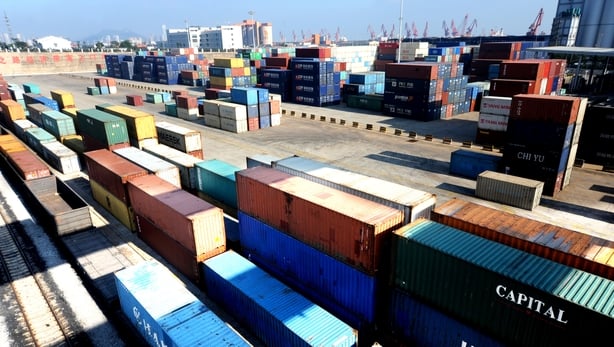 In relation to the timeline for such a deal, Mr Hogan said he would not put a deadline on the talks, but the sooner the better because both sides want to create certainty and predictability for the very strong trading relationship.
"Talk about tariffs or any barriers to trade are not actually good news for business or giving that particular certainty or predicability," he stated.
"I'm not going to put deadlines on it, or redlines. I'm going to ensure that we have a good relationship and when we have something meaningful together in terms of a package we will be in a position to announce it. Hopefully in the coming months," he added.
On the issue of digital tax, Mr Hogan said the US team he met in Washington last week left him in no doubt that they are concerned about the issue of taxing American tech companies in the EU.
"But what we are trying to do is to generate an agenda through the OECD of a global tax in relation to technology and the companies," he said.
"And the United States are happy to go along with this process and extend this process. In the meantime we have de-escalated the situation by pausing the tariffs as well as the tax, and I think that the French Minister for the economy, Bruno Le Maire, played a very good role in this with his counterpart in the United States," the Commissioner said.
He said Davos provides great opportunities to meet world leaders, NGOs and CEOs of big companies who are doing a lot in terms of employment and economic activity and get a sense of the issues.
"Clearly as Commissioner for trade I was very interested in refreshing and resetting the relationship with the EU," he said.
"I started that last week in the United States and followed up with various meetings this week," he added.