Ireland's food, drink and horticulture exports reached €13 billion for the first time in 2019, up 7% from €12.1 billion in 2018.
Bord Bia said this marked the highest level of exports in its 25-year history and sees a decade of "consistent and extraordinary" growth in which Irish food and drink exports grew by 67% since 2010.
Irish food and drink products are now exported to over 180 countries worldwide.
Bord Bia said that EU markets accounted for 35% of exports last year, an increase of 1%. The UK accounted for 34% of exports - a fall of 3% - while the rest of the world accounted for 31% of exports - up 2%.
On Brexit, Bord Bia said that its analysis tool - the Brexit Barometer - continued to be a valuable resource across sectors.
It said it allowed Irish food and drink producers to avail of customised support services to accelerate Brexit preparedness and to protect and maintain their share of the important UK market.
Tara McCarthy, CEO of Bord Bia, said 2019 was a watershed year for Ireland's food and drink industry not only in the total value of exports achieved but also in the make-up of their destination.
"For the first time export levels to continental Europe exceeded exports to the UK. This result gives further impetus to the market prioritisation work undertaken by industry, the Department of Agriculture, Food and the Marine and Bord Bia over recent years," Ms McCarthy said.
Tara McCarthy said the decade of consistent and significant growth points to the resilience and innovation that underpins Ireland's largest indigenous sector.
"Nearly half of that growth, 48% - €2.7 billion - came from exports to places outside of the EU and demonstrates the importance of continually looking to new horizons in Ireland's market diversification strategy for our world class food and drink produce," she added.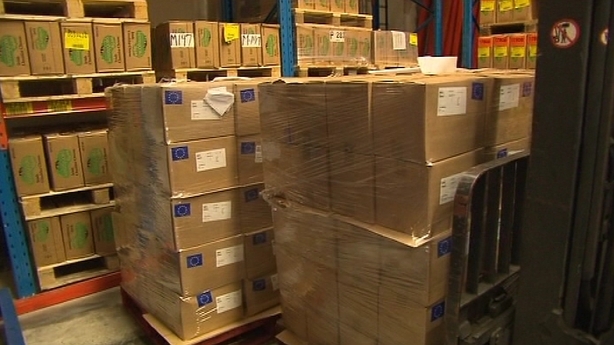 Bord Bia said the dairy sector grew in value by 11% last year to €4.4 billion. Despite weakening commodity prices, particularly in key categories like butter, it said 2019 was the third consecutive year in which the value of exports exceeded €4 billion.
With exports reaching €1.2 billion, butter remained the category leader last year. Bord Bia also noted that increasing diversification proved fruitful for cheese exporters, with an overall increase of 22% in exports derived from strong performance in continental Europe, as well as in the UK.
But 2019 was a mixed year for Irish meat and livestock exports, which recorded a 1% decrease in value to €3.9 billion.
According to Bord Bia, the decrease was driven by a challenging year for beef and sheepmeat, which was partially offset by strong category performances across both poultry and pigmeat.
Spearheaded by strong growth in Irish whiskey, Irish alcohol exports increased by 8% to €1.45 billion last year.
Driven in the US by strategic positioning in the premium and super-premium segments, Irish whiskey exports grew by 11% in 2019 to €727m, while the cream liqueur sector saw overall export sales of 7.9 million cases.
Meanwhile, seafood exports grew by 6% to €605m in 2019 on the back of Asian demand for high value products. Bord Bia said this growth was delivered despite difficult trading circumstances marked especially by reduced quotas and Brexit.
Edible horticulture and cereal exports were up 8% to €248m in 2019, despite a challenging year for mushroom producers, who account for over 42% of all Irish horticulture exports.
Bord Bia said that currency volatility, cost increases and uncertainty in the UK consumer market - the destination for almost all Irish mushroom exports - resulted in continued consolidation in the sector.
Finally, Irish exports of prepared consumer foods and prepared foods returned to growth last year after a challenging 2018.
Exports from the Prepared Foods sector increased by 12% to €2.32 billion, while exports of Prepared Consumer Foods increased by 2% to €2.66 billion, with the UK accounting for 67% of these exports.
Bord Bid noted that despite the uncertainty around Brexit, exports of prepared consumer foods to the UK rose by 1% in 2019.