Despite reporting record levels of employment for 2019, Enterprise Ireland has cautioned that it is seeing a moderation in the pace of job growth.
It said this reflected the impact of Brexit uncertainty, as well as wider skills and talent recruitment and competitiveness challenges for SMEs.
The agency's end of year statement shows that a total of 221,895 people are now employed in companies supported by Enterprise Ireland - the highest total employment in the 20-year history of the agency.
Enterprise Ireland, which is responsible for developing Irish business globally, noted that 65% of total employment in the companies it supports is now outside of Dublin.
Its end of year statement show that Enterprise Ireland-supported companies created 16,971 new jobs in 2019.
But job losses brought the net number of new jobs down to 4,706 which is half the number created in the previous year.
During 2019, Enterprise Ireland said that Cleantech jobs grew by 9%, Lifesciences and Fintech jobs increased by 6%, Electronics by 5% while ICT and international services jobs were up by 4%.
Jobs in the food sector grew by just 1%, which Enterprise Ireland said reflected the uncertainty created by Brexit last year.
On Brexit, Enterprise Ireland said that it continues to work on a one-to-one basis with its exporting clients on Brexit planning.
It said it had approved funding of €125m to its most Brexit-exposed clients during 2018 and 2019.
Julie Sinnamon, CEO of Enterprise Ireland, said the agency is ahead of its target to create 60,000 new jobs by the end of 2020.
She said that 57,881 new jobs have been created over the past three years by Enterprise Ireland-backed companies.
But she also said the agency was seeing a moderation in the pace of job growth reflecting the impact of Brexit uncertainty, as well as wider skills and talent recruitment and competitiveness challenges for SMEs.
---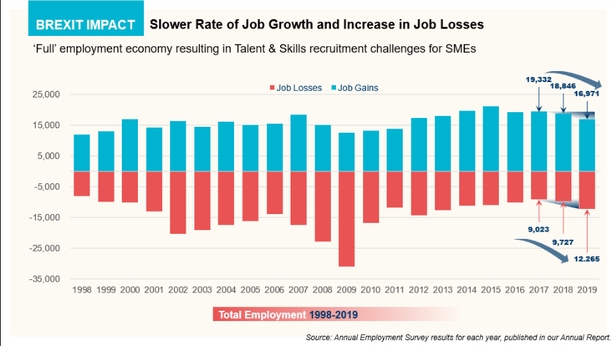 ---
Ms Sinnamon said to ensure that Enterprise Ireland companies continue to grow and create jobs, an increase in investment in innovation is needed.
"Our research shows that companies that invest in research and innovation generate 67% more in global sales than those that don't," the CEO said.
"Sustaining businesses through innovation and competitiveness is a key priority for Enterprise Ireland in 2020 as a means of helping businesses maintain their competitive advantage and creating and sustaining jobs for the future," she added.
Enterprise Ireland also published its 2020 Action Plan for Women in Business, as part of Future Jobs Ireland.
The aim of the plan is to increase levels of women-led businesses and women in strategic management positions to improve diversity.
Minister for Business, Enterprise & Innovation Heather Humphreys said that Ireland will never reach its full potential without increasing the participation of women in entrepreneurship and business leadership.
"Increasing gender diversity is the right thing to do, but it also makes sense because the research tells us that it leads to better decision making, improved productivity and increased profitability," the Minister said.
We need your consent to load this rte-player contentWe use rte-player to manage extra content that can set cookies on your device and collect data about your activity. Please review their details and accept them to load the content.Manage Preferences