Niamh Nic Gabhann wore an exquisite green dress to a ball in Limerick. 
Designed by Jean Allen, the dress is more than 60 years old. It once belonged to her grandmother Rosemary Ryan Purcell, and was purchased by Niamh's great-grandmother Peggy Ronan in Fitzsimmons on Patrick Street in Cork.
"Apparently, it was a really nice place to go shopping in Cork in the mid century," she said.
"Given that it is such a good dress, I was one in a very long line of people to wear it. My aunt would have worn it on various occasions, my Mum's friend at school wore it as her debs dress, and the last person before me to wear it was a man called Paddy Hayes who wore it in the nativity pageant as a wise man, so it's done the rounds. It was value for money," she laughed.
Gave my Granny's 1950s Jean Allen dress a whirl last night at the @UL alumni awards! 👗 pic.twitter.com/ahYREGdUOR

— Dr Niamh NicGhabhann (@Niamh_NicGhabh) November 10, 2019
The editor of Vogue magazine, Anna Wintour, recently said clothes should be cherished, reworn and passed on to the next generation. She called for more sustainability in the fashion world, and less of a throwaway culture.
Fashion and textile designer Sandra Murphy said over consumption and over production is something that has to be addressed in the fashion industry.
"The 'wear once and waste tomorrow' isn't sustainble," she said. "I think there is a lot of spotlight on it now and it is taking a lot of heat, and rightly so, in terms of the damage the fashion industry is causing.
"Right now, 1% of clothing is recycled back into clothing, and everything else becomes waste. As an industry we have to hold our hands up, and take responsibility."
People like to be fashionable and stylish, and that pressure comes from the industry. But that wasn't always the way.
"If you go back to previous generations, they weren't fed 'You've gotta have this now'. Clothes have become so cheap, and that inherently makes you discard your decision-making."
We need your consent to load this rte-player contentWe use rte-player to manage extra content that can set cookies on your device and collect data about your activity. Please review their details and accept them to load the content.Manage Preferences

There is behavioural evidence that backs up this theory, according to Pete Lunn, Head of the Behavioural Research Unit at the ESRI.
"Yes, even if something is good quality and you like it, if it was cheap, somewhere internally you are likely to value it a little bit less. If it's expensive, you're likely to value it more and possibly look after it a bit more and want it to last a longer time."
Our choice of clothes signal things about ourselves; the groups that we belong to, and the way we wish others to perceive us.
"The fashion industry spends an enormous amount of time considering those issues, putting things in front of us that help us to signal the groups that we belong to, help us to say things about ourselves and tempt us to be somewhat more competitive about the way we do that to seek social status," Mr Lunn explained. "For very many years, the fashion industry has been extremely successful in doing that."
The Limerick School of Art and Design has an international reputation for fashion design. Sustainability is sewn into the fabric of garments.
Ruth Duignam is Course Leader for Fashon and Textiles for Product and Costume at LSAD. "Sustainability - we don't even write it into the briefs most of the time.  Students are thinking about sustainability. It's the generation that we are dealing with," she said. "They are very savvy shoppers; they shop second hand, they upcycle, they repair clothing. It's just part of their identity, I would say."
Ruth set a brief for the students to design clothing for a 'Sustainable Fashion' exhibition.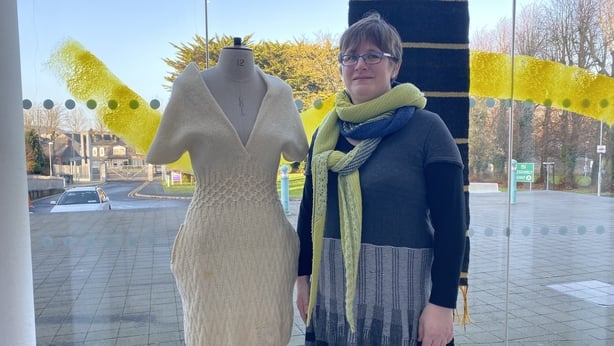 Student Aine O'Callaghan found a jumper that her mother had knit more than 50 years ago. It has been in her aunt's attic for 30 years. She re-imagined the jumper and transformed it into a dress.
"We all have things that we put to the back of the wardrobe because there's a small bit of damage on it, and we're sick of wearing it," she said, "but it's an opportunity to re-imagine it. Things like darning can look extremely pretty."
As more people become aware of the damage that over consumption does to the environment, are they likely to change their behaviour? Mr Lunn doesn't think so.
While people want to be more sustainable, and worry about the future of the planet, they have too much to juggle to factor it into their decision when making a new purchase.
"It's very difficult to factor into all of that, information about environmental sustainability at the same time, he said. " Because you are not in the mental space to do that, you have too many things you're juggling. That's why it is really hard for consumers on a day to day basis to make decisions that support sustainability."
Designer Sandra Murphy has advice for people who want to be more sustainable when it comes to fashion. She said the most sustainable clothes are the clothes that are in your closet.
"If you have them and you like them, you don't need to go out and buy something else. From that point forward, it's about being conscious and making smart decisions. Personally, I tend to stay away from anything that is trend focused, and something that is classic and has longevity."
One garment that has enjoyed longevity is Niamh Nic Gabhann's grandmother's green dress.
Mrs Ryan Purcell was chuffed to think that something she wore in her 20s, when she was just out of UCC as student, was being worn many years later. "I think she was chuffed that it is still on the go and still being taken out for a night," Niamh said. "I think she found that quite lovely actually."
"I will wear it again. Why not? And I'd love if other people wore it again.  It's a really well made piece, it's beautifully constructed. The fabric is beautiful. I think more and more, people are looking at what they already have, or looking to share different pieces. The idea that you have to buy something new every time you want to go anywhere is becoming unfashionable, and I think that's a good thing."