A new report shows the time it will take to close the global gender gap narrowed to 99.5 years in 2019 from 108 years the previous year.
The World Economic Forum's Global Gender Gap Report 2020 shows that parity between men and women across health, education, work and politics will take more than a lifetime to achieve.
The new report said the slight gender gap improvement is mainly due to a significant increase in the number of women in politics, noting that the political gender gap will take 95 years to close compared to 107 years last year.
Today's report shows that Nordic countries continue to lead the way to gender parity, while Ireland comes in 7th place with a pay gap of 79.9%.
Iceland (87.7%) remains the world's most gender-equal country, followed by Norway in second position (84.2%), Finland in third (83.2%) and Sweden in fourth (82%).
Other economies in the top 10 include Nicaragua (5th, 80.4%), New Zealand (6th, 79.9%), Spain (8th, 79.5%), Rwanda (9th, 79.1%) and Germany (10th, 78.7%).
---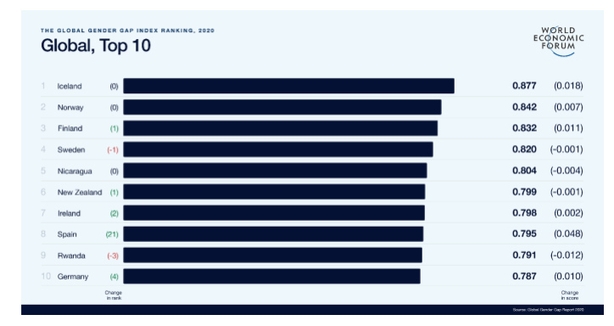 ---
The WEF also said that educational attainment and health and survival is much closer to parity on 96.1% and 95.7%.
It said the major battlefield remains economic participation where the gender pay gap widened to 57.8% from 58.1% in 2018.
This means the economic gender gap will take 257 years to close, compared to 202 years last year.
The WEF said this is due to a number of factors, including the "stubbornly" low levels of women in managerial or leadership positions, wage stagnation, labour force participation and income.
"Supporting gender parity is critical to ensuring strong, cohesive and resilient societies around the world. For business, too, diversity will be an essential element to demonstrate that stakeholder capitalism is the guiding principle," said Klaus Schwab, Founder and Executive Chairman of the World Economic Forum.
"This is why the World Economic Forum is working with business and government stakeholders to accelerate efforts to close the gender gap," he added.