The Government must deliver a confident message to the world that Ireland is open for business in the face of challenges such as Brexit and the slowdown in the global economy, the American Chamber of Commerce in Ireland has said.
The organisation represents US based companies with operations here.
It also today called on the Government to accelerate Project Ireland 2040 in order to urgently resolve infrastructural bottlenecks in housing and roads.
The chamber said the past year has been a strong one for foreign direct investment here and US companies remain positive about the future.
But it also said that data from the World Bank shows Ireland has fallen to 24th place for ease of doing business, with scores across a number of indicators falling.
It said growth into the future would be dependent on the country's ability to embrace change brought about by technology as well as develop the necessary talent.
The chamber made the comments as its member companies gathered in Dublin for a lunch to celebrate Thanksgiving.
Chamber President Mark Gantly said Ireland must also recognise and act on the opportunity presented for foreign direct investment here by Brexit.
He also said that Ireland must not lose sight of the fact that it is competing for the next wave of investments with many other countries and that this competition is fierce.
Mary Robinson has said it is extraordinary that many business leaders are more engaged, ambitious and thoughtful on climate issues than political leaders are tending to be.
At today's Thanksgiving lunch in Dublin, former President of Ireland Mary Robinson said business needs to both put pressure on and support government in tackling climate change.

Mrs Robinson was awarded the 2019 Distinguished Leadership Award at the event.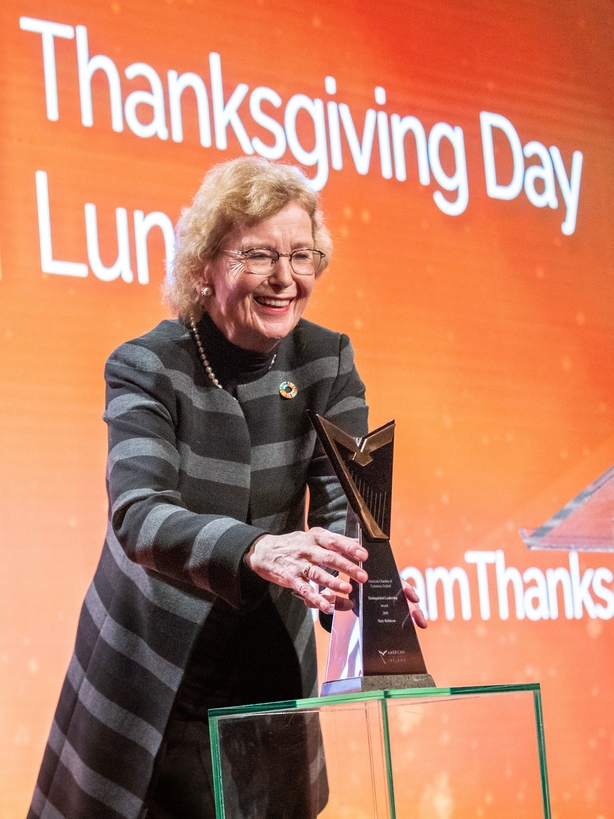 "It is hard as a democratically elected...political leader," she acknowledged.
"You've got to think about the next election, you've got to get re-elected to do what you want to do. Whereas business leaders are thinking we need to make more radical changes."
Mrs Robinson said she had seen first hand in the US the work being done behind politics by individual states, civil society, philanthropy and business."
"We need both the pressure of business and investment but also we need responsibility of governments to take those difficult decisions," she said.
"These are really difficult issues and somehow business has to both pressure and support government in coming to those decisions."
"And I say support government by being firmly of the view that you have to change and change more rapidly in order that we have a safe future for our children and grand children."
She also told the audience that there are opportunities over the next decade for businesses who embrace the sustainability agenda.
But she warned that if global warming isn't halted and the Earth warms to above 2 degrees Celsius over pre-industrial levels, there will be chaos.
So there has to be change, she claimed.
The former UN High Commissioner of Human Rights also put it up to the American Chamber to make a pledge to meet the UN Sustainable Development Goals, as members of Chambers Ireland already have.