A study on personal savings has shown that most people are putting money aside for a rainy day and four out of five people (83%) have a savings account in a bank, post office or credit union.
This is according to a national survey on savings habits commissioned by Banking and Payments Federation Ireland (BPFI).
The BPFI's study shows that most of those putting money aside for a rainy day are aged 54 or more, while 66% of people are saving for a rainy day and 36% for holidays.
A higher proportion of people living in Dublin save than anywhere else in the country, it also reveals.
More than a third of millennials (25-37-year olds) said they are saving money for a house deposit, while the majority of people who do not save say they simply do not have the spare cash.
Generation Z (18-24 year olds) were least likely to be saving, the study shows, while 77% of people over 54 years of age are saving for a rainy day.
---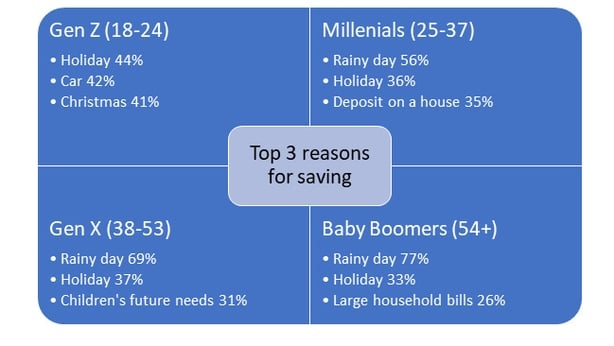 ---
The study shows that across all age profiles everyone saves most for a rainy day, for the unexpected expenditure or tough times.
The head of the BPFI, Brian Hayes, said the research shows that Irish people have developed good savings habits at an early age.
"Even though variances exist in terms of the reasons why people are saving at various stages in their lives, it's very encouraging to see that rainy day saving is a key priority across most age profiles," Mr Hayes added.