The Organisation for Economic Co-operation and Development has lowered its forecasts for global growth for the next two years.
The OECD, an international think-tank headquartered Paris, believes the world's economy will grow by 3% over the next two years, compared to a forecast of 3.5% a year ago. 
The figure is the weakest projected growth since the global financial crisis. 
The slowdown is blamed on unresolved trade disputes and structural changes that have not been addressed. 
According to the OECD, the main challenges impacting economies across the globe are climate change and digitalisation. 
The OECD warns that the lack of policy direction to deal with climate change is hampering investment. 
It said the number of extreme weather events is on the rise and may lead to significant disruption to economic activity, long-lasting damage to capital and land and disorderly migration flows.  
The think-tank also urged governments to act quickly.
It said that without a clear sense of direction on carbon prices, standards and public investment, businesses will put off investment decisions "wth dire consequences for growth and employment." 
On digitalisation, the OECD warned about its impact on people and work, adding that it said it can create new forms of contractual arrangements that escape traditional social protection.' 
It said there is a window to avoid "a stagnation" but warns the mix between monetary and fiscal policies is unbalanced. 
And that apart from a few countries, fiscal policy has not been especially supportive of investment while the price of assets, like property, remains buoyant, it added.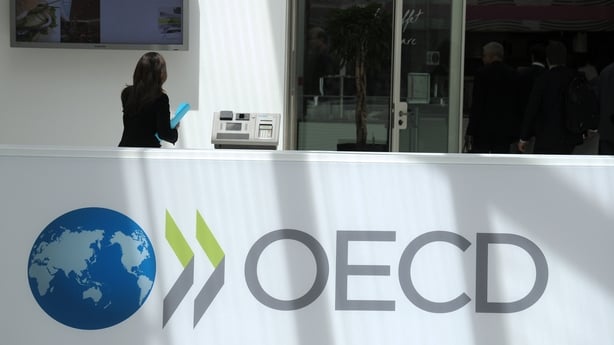 On Ireland, the OECD said the uncertainty over Brexit remains high and that trade disputes could have a "substantial and abrupt" effect on the economy given the country's openness to global trade. 
It pointed out that some sectors, like commercial property are reliant on foreign investors. On the other hand, it said that if Brexit was resolved, the economy could get a boost. 
OECD chief economist Laurence Boone noted that "for the past two years, global growth outcomes and prospects have steadily deteriorated, amidst persistent policy uncertainty and weak trade and investment flows."
She said that while central banks had taken decisive and timely monetary decisions that partly offset negative effects of trade tensions, most governments had not done so on a fiscal level, for example by investing in long-term projects to improve infrastructure, advance digitalisation of their economies and limit climate change.
Due to "persistent policy uncertainty and weak trade and investment flows," she said the OECD now saw the global economy expanding at "the weakest rate since the global financial crisis" erupted in 2007. 
The US economy, the world's biggest, "is expected to slow to 2% by 2021, while growth in Japan and the euro area is expected to be around 0.7-1.2% respectively." 
In China, the second biggest economy worldwide, growth was forecast to "continue to edge down, to around 5.5% by 2021", Boone said.
Other emerging-market economies are expected to recover "only modestly," she added.