Central Bank Governor Gabriel Makhlouf has said that Ireland must avoid a return to the damaging credit-house price spiral of the past.
Gabriel Makhlouf made his comments in an address to students and staff at the Waterford Institute of Technology and the Chamber of Commerce in his first keynote speech since being appointed Governor.
On the Central Bank's mortgage rules, the Governor noted that they are a permanent feature of the mortgage market and have been key to enabling sustainable lending.
"It is important to consider how the suite of macroprudential buffers interact not only with each other but also with those of microprudential supervision - arriving at a consistent and holistic view of capital for the banking sector - and the other key macroprudential tools in operation," Mr Makhlouf said
"We must continue to look at whether the objectives and scope of our wider macroprudential framework remains appropriate to the current environment," he added.
Makhlouf says credit-house price spiral must be avoided https://t.co/W4PCNjym55

— RTÉ Business (@RTEbusiness) November 20, 2019
Gabriel Makhlouf also said that the Irish economy, particularly in the context of Brexit and the risk of escalating trade wars, is vulnerable.
While acknowledging the substantial improvements in resilience made over the last decade, he identified four key transitions which pose challenges to the Irish people - Brexit, climate change, the pace of technological change and the profound changes which are taking place in the financial system.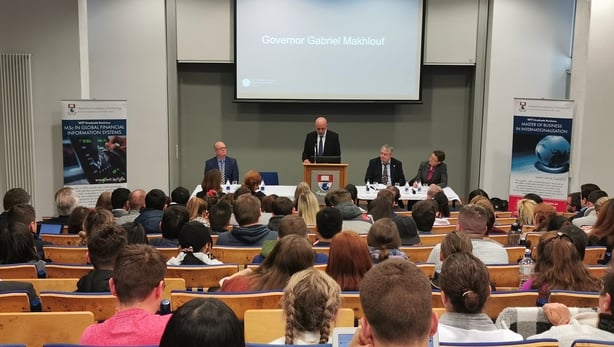 "Building economic resilience is not like building a bulwark and then assuming the job is done," Mr Makhlouf said.
"There is no one-off solution to the challenge of building resilience. It is a continuous process, involving individuals, households, businesses, institutions and authorities, such as the Central Bank, both at home and abroad," he added.
The Central Bank Governor also said told the Waterford audience that a range of economic data for the second half of the year point to continuing, moderate growth in the euro zone.
"In the euro area we are also seeing protracted weakness. Both hard and soft data for the second half of the year point to continuing, moderate growth," Mr Makhlouf said.
The former New Zealand treasury chief said he endorsed calls for a formal review of the ECB's monetary policy strategy that would allow it take on board the lessons of the financial crisis as well as its experience of the low-inflation environment.