The chief executive of KBC Group has offered a "sincere apology" for his comments in relation to the Central Bank inquiry into the tracker mortgage controversy.
In a statement this evening, Johan Thijs said he would like to personally and sincerely apologise to the bank's customers and to the Irish public for the offence caused by his words.
"I want to acknowledge the insensitivity of what I said and the manner in which it was delivered. It was unintentional and I am truly sorry for the offence caused," he said in a statement.
"KBC has previously apologised for the way we handled tracker mortgages on behalf of our customers, many of whom were directly impacted and I would like, also personally, to formally reiterate that apology again today."
Mr Thijs said he also acknowledged the crucial role played by the Central Bank of Ireland in all regulatory matters, including the tracker mortgage examination.
"I want to express my support and respect on behalf of KBC for the role that the CBI plays in the regulation of banking in Ireland," he said.
"We have fully cooperated with this investigation and will continue to do so until all matters in relation to tracker mortgages are dealt with."
We need your consent to load this rte-player contentWe use rte-player to manage extra content that can set cookies on your device and collect data about your activity. Please review their details and accept them to load the content.Manage Preferences
"KBC are determined to act as a positive force for choice in the Irish banking sector. We are committed to the process of cultural change in banking in Ireland.
"While my words yesterday do not reflect that, I want to assure people that KBC and myself will do everything in its power to regain public trust.
"We are fully committed to further supporting the Irish economy and the Irish people. My commitment is that we do so through actions and not just words."
Yesterday Mr Thijs said that the Central Bank needs to move on as an "annoying" inquiry into a mortgage overcharging controversy hampers growth.
"What is still an annoying thing is the whole tracker mortgage stuff," Mr Thijs said on a call with analysts after the Belgian lender's third quarter earnings.
"Honestly, I would recommend the Central Bank of Ireland, come on guys, turn the page, focus on doing business," he said.
Banks here have paid about €693m in compensation and redress to more than 40,000 customers who were caught up in the tracker mortgage controversy.
Over 3,700 of those were customers of KBC Bank Ireland.
The Irish Banking Culture Board has welcomed the apology by Mr Thijs.
Earlier, the board described his comments as "unhelpful".
It said that many victims of the tracker mortgage controversy are still in the course of having their complaints resolved.
"They can not move on," it stated.
It also said that the Central Bank has still not completed its investigation into KBC and clearly is also not in a position to move on.
Irish Banking Culture Board says KBC CEO's comments are 'unhelpful' pic.twitter.com/K4yRYj4uUl

— RTÉ Business (@RTEbusiness) November 15, 2019
"The IBCB believes that Central Bank of Ireland's regulatory role should be respected by all," it added.
The IBCB is an independent industry initiative established and funded by the five retail banks in Ireland with the aim of rebuilding trust in the sector through demonstrating a change in behaviour and overall culture.
Its goal is to act as a transformative influence on culture within the banking sector.
Padraic Kissane, a financial adviser who helped many tracker mortgage customers, and a consumer representative on the Irish Banking Culture Board said he welcomed the apology.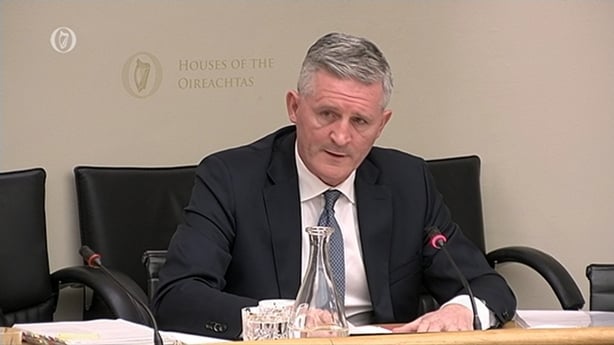 "I acknowledge the words but as stated the actions will always speak louder than those words and I look forward to progression on the words issued today," he said.
"Culture and attitudes will and must change and today might well be a loud signal to that commencing."
Earlier, he had described Mr Thijs's comments yesterday as "insensitive".
He also said there are "good people" in KBC in Ireland who are trying "change the culture".
He said Mr Thijs's comments yesterday highlight the level of work and the challenge that is ahead for the culture board, but that it "won't be easy".
He said banks broke the trust of those affected.
"People are not upset about how much money was taken from them, they're upset that it was taken in the first place. They trusted banks to look after them, and that point is consistently missed by commentators," Mr Kissane stated.