The Economic and Social Research Institute has said the Irish housing market is not overvalued at present. 
The ESRI's findings are contained in a new report on house price sustainability. 
The think-tank used a rent-to-house price ratio in Ireland for the years between 2010 and 2018 to explore how the housing market is developing across Ireland.  
"The severity of the economic crisis in Ireland was extreme by international standards and highly correlated to the major price inflation for both rents and house prices during the boom phase of the credit cycle, 2002-2007," the ESRI said. 
However, on the recovery in house prices it found that there is some variation across the country with more rural counties appearing to be the least at risk of overheating. 
This is because these rural counties experienced a major decline in house prices with less of a recovery.  
But it also says its findings do not suggest any specific geographic areas are becoming unsustainable. 
Prospective house buyers, it says, may react to high prices in one county by purchasing in an adjacent county, thereby increasing demand, and prices, in the latter.
Irish housing market not overvalued despite big price increases - ESRI pic.twitter.com/2MGyHCMOnq

— RTÉ Business (@RTEbusiness) November 13, 2019
Separate research from the ESRI also examined housing affordability for potential first-time buyers at the county level. 
The research estimates the percentage of monthly income that would be spent on mortgage repayments by the average buyer. 
Its findings suggest that potential first-time buyers would spend more than 30% of their income every month in Dublin, Wicklow, Kildare and Meath.
It said this highlighted the greater affordability pressures in and around Dublin.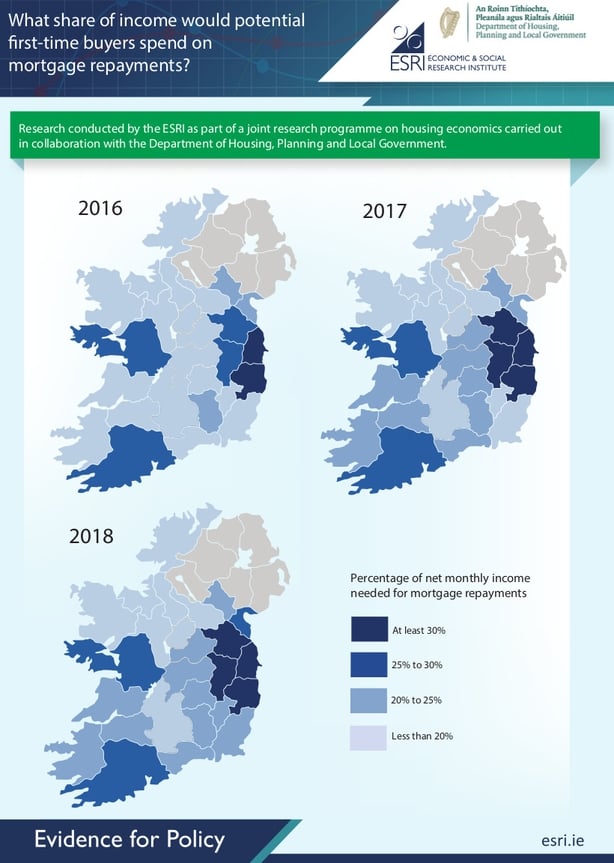 It added that affordability pressures were not as evident in other counties.
Conor O'Toole, ESRI researcher, said that while house prices across Ireland appear to be well explained by economic fundamentals such as labour market developments, affordability continues to be a challenge. 
"Our research suggests that affordability challenges for first-time buyers are concentrated in urban markets, in particular around Dublin," Mr O'Toole said. 
"Policies to increase the supply of affordably-priced homes continue to be critical but can be complemented by demand side supports for deposits and mortgages," he added.