UK officials will prioritise the flow of goods into the UK over customs payments and paperwork in the event of a no-deal Brexit.

That is according to a UK government official, who said it would be possible for hauliers and others moving goods into Britain to complete customs declarations and pay duties afterwards rather than at the port of entry.

"That means that you are prioritising how those goods can move through the port, rather than being able to say it is 100% customs controls at the stroke of midnight and if you don't have every single piece of paper absolutely 100% you get turned around," he said.

He said that if the UK left the EU with no deal, then the UK would have flexibility over how customs controls will be applied.
"What it essentially means is that in that period, if you were to have a no-deal, the focus will be on ensuring goods can continue to flow in as smoothly as possible," he stated.

There would be a trade-off in terms of the revenue that would be collected from tariffs, he added.

"But that is effectively the trade-off that the UK government has decided - that it is better to take a risk on maybe missing some of the revenue that in theory should be paid, versus actually keeping goods flowing as much as possible," he said.

The comments will come as a reassurance to Irish exporters who had been concerned about potential delays at UK ports in the immediate aftermath of a no-deal Brexit, even though the threat of that now appears to have receded somewhat.
The President of the Irish Road Haulage Association (IRHA), Verona Murphy, said such an approach would be welcome.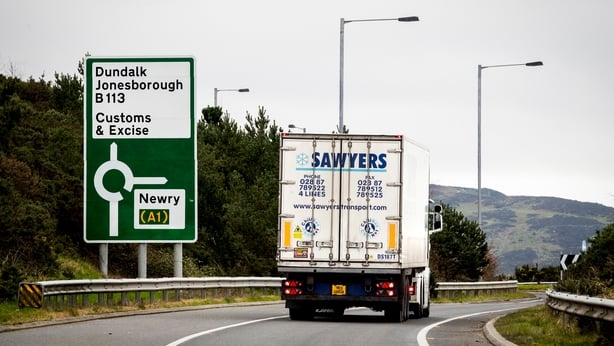 She said the IRHA had made similar suggestions and proposals to the EU through the organisation that represents hauliers at European level.

There had been warnings in the UK of possible shortages of certain foods and other goods there in the event of no-deal if trucks coming from Ireland and continental Europe were held up at ports.

The UK government official was speaking to RTÉ News ahead of an industry day for Irish businesses hosted by the British Embassy in Dublin today.

The event, one of a series that has been held by the British government across member states in preparation for Brexit, involves officials from across a range of UK government departments, as well as Her Majesty's Revenue and Customs.

The official said there are things businesses need to do in order to get ready for a no-deal and also a deal.

He said that until the ratification of the deal agreed between the EU and UK has gone through, a no-deal could still happen.

As a result he said the UK government is trying to strike a balance between telling businesses what it is that they can do to practically get themselves as ready as possible but for that effort also not to be wasted if the deal is passed into law.
Business preparations should include registering for an EORI number with Revenue in order to move goods between the UK and EU, ensuring awareness of Irish customs processes and speaking to UK suppliers and customers to check who will be responsible for customs processes, the embassy said.

On the question of how businesses will prove that goods coming into Northern Ireland will stay there, if the deal is ratified, the official said a huge amount of work has already been done in this area.

He said that because Northern Ireland will be aligned with the single market, goods that are coming into it from Britain will have to also be aligned.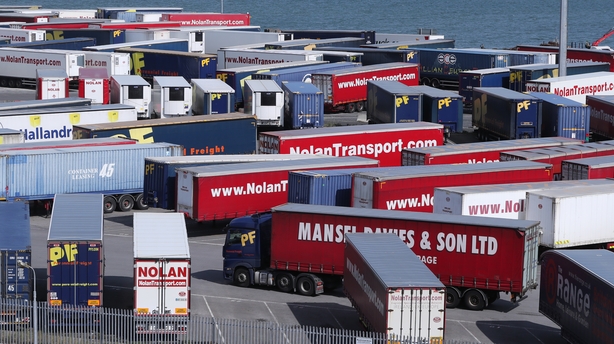 As a result, single market and customs checks on goods arriving into Northern Ireland will be done at ports.

But he said the exact process of how goods moving on to the Republic from the North would be dealt with would be considered by the joint committee during the transition period.
The aim would be to ensure any new processes are as minimal as possible for Northern Ireland businesses, he said.

In a deal scenario, the vast majority of trucks crossing the Irish Sea should be able to go through the customs process while on the water using technology, he said, meaning there would be no major delays at ports.
Only occasionally would a truck get pulled over, he added, for security or random checks or if there is a question mark raised by the customs paperwork.

However, Irish hauliers using the UK solely as a land bridge would not get fast-tracked, he said.

But using the provisions of the Common Transit Convention goods would be able to transit the UK and the customs procedures would be handled at the end of the destination, he said.

This would apply in both a deal or no-deal scenario, he claimed.
To help hauliers and traders in the EU further, the UK is setting up 50 information pop-up sites in EU locations for drivers to provide advice on the documentation required.