Ireland has recorded a 12% increase in brand value over the past year to bring its total to $604 billion.
This is according to the latest report by Brand Finance, which ranks the 100 most valuable and strongest nation brands every year.
Brand Finance said that Ireland was the fastest-growing nation brand in Western Europe this year with all the other players in the region recording a slight rise or even a decline.
Although ranked 26th globally for absolute brand value, Ireland is second on the ranking for brand value per capita, coming behind only Luxembourg.
During the year, the UK's nation brand value and the combined brand value of the other EU member states have only grown 19% and 32% respectively.
"Currently the outlook for growth in the Irish economy looks positive, bolstered by the strength of our home-grown brands, and the very significant influx of inward investment in recent years," commented Simon Haigh, Managing Director of Brand Finance Ireland.
"However, a potential no-deal Brexit is likely to cause challenges for the Irish economy moving forward," he cautioned.
Overall, the US is the world's most valuable brand at $27.7 trillion, while China continues to grow at a strong rate - recording a 40% increase in brand value to $19.5 trillion - to reach second position.
Behind the US, China, and third-placed Germany, Japan's brand value has increased 26% to $4.5 trillion, pushing the UK into 5th rank with a value of $3.85 trillion.
Although there were no new entrants to the top ten, India made the largest jump within moving from 9th to 7th position.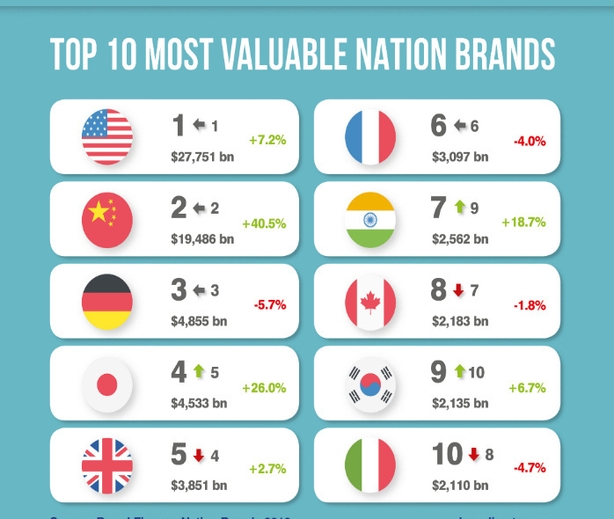 Other movers in the top 10 include Canada, dropping from 7th to 8th, Italy falling from 8th to 10th and South Korea, which has inched up one place from 10th to 9th.
Today's report also shows that globally, the average year-on-year nation brand value growth among the developing economies stands at 13.9%, compared to as little as 0.4% for the developed economies
This means that, on average, the nation brands of developing economies have been growing at a pace 31.3 times faster than the developed ones.
"With the Western world seeing a real crisis of leadership on both sides of the Atlantic, the developing world is catching up. Bolder, more agile, increasingly innovative African, Middle Eastern, Asian, and Latin American nation brands are racing ahead at breakneck speed, poised for further growth in the years to come," Mr Haigh said.
Although catching up, the combined nation brand value of the 65 developing economies in the study - $37.8 trillion - remains far behind that of the 35 developed economies, which sits at $60.3 trillion.