Dublin residential property prices fell again in the year to August, new figures from the Central Statistics Office show today.
Property prices in Dublin were down 0.3% in the year to August, with house prices in the city falling by 0.6% and apartment prices rising by 0.7%.
Dublin property prices had slowed by 0.2% in the year to July - the first drop since 2012.
The CSO noted that the highest house price growth in Dublin in August was in Fingal at 2.3%, while Dun Laoghaire-Rathdown saw a decline of 6.1%.
Overall, residential property prices increased by 2% nationally in the year to August. The CSO said this compares with an increase of 8.9% the same time last year.
Residential property prices in the rest of the country were 4.4% higher in the year to August, with house prices up by 4.1% and apartments rising by 5.3%.
The region outside of Dublin that saw the largest rise in house prices was the Border at 13.1%, while the Mid-East recorded a decrease of 0.8%.
August also saw prices in the Mid-East of the country - Wicklow, Louth, Meath and Kildare - fall by 0.8% - the region's first drop since November 2013.
The CSO said that property prices nationally have increased by 85.2% from lows in early 2013.
Dublin residential property prices have risen 95% from their February 2012 low, while residential property prices in the rest of the country are 83.5% higher than at their trough in May 2013.
---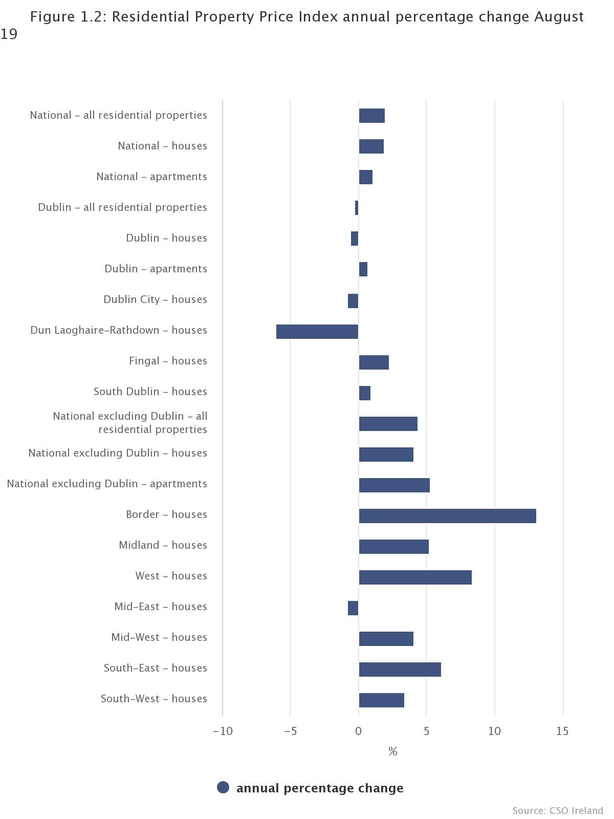 ---
Today's CSO figures also show that consumers paid a median price of €255,000 for a home in the 12 months to August.
The Dublin region continued to have the highest median price of €367,500. Within the Dublin region, Dún Laoghaire-Rathdown had the highest median price of €533,000 while Fingal had the lowest at €340,000.
The highest median prices outside Dublin were in Wicklow at €323,500 and Kildare at €302,000. The lowest price was €103,543 in Leitrim.
Meanwhile, a total of 44,910 household dwelling purchases were filed with Revenue in the year to August.
Of these, 31.2% were purchases by first-time buyer owner-occupiers, while former owner-occupiers purchased 52.7% of the homes. The balance of 16% were bought by non-occupiers.
Revenue data shows that there were 1,202 first-time buyer transactions in August, an increase of 3.2% on the 1,165 recorded in August of last year.
These purchases were composed of 329 new dwellings and 873 existing dwellings, the CSO said.