New figures from the Central Statistics Office show that residential property prices in Dublin eased on a yearly basis for the first time since 2012 in July, while the rest of the country saw a 4.8% increase.
The CSO said that residential property prices nationally rose by 2.3% in July - ending a 14-month run of slowing annual price inflation.
The 2.3% growth also compared to a 10% increase the same time last year. 
Residential property prices in Dublin decreased by 0.2% in July, with house prices down by 0.5% while apartment prices rose by 0.9%. 
The CSO noted that the highest house price growth in Dublin was in South Dublin at 3%, while Dun Laoghaire-Rathdown - the location of the most expensive homes in the country - saw a decline of 6.3%.
Meanwhile property prices in the rest of the country climbed 4.8% higher in the year to July.
House prices were up by 4.6% while apartments prices increased by 5.4%. 
The largest rise in house prices was seen in the Border region with prices jumping by 16.1%, while the smallest rise was recorded in the Mid-East at 0.4%.
The CSO said that property prices nationally have increased by 84.7% from their trough in early 2013. 
Dublin residential property prices have risen 93.8% from their February 2012 low, while residential property prices in the rest of the country are 83.6% higher than at the trough in May 2013.
Today's figures show that households paid a median price of €255,000 for a home in the 12 months to July 2019. 
---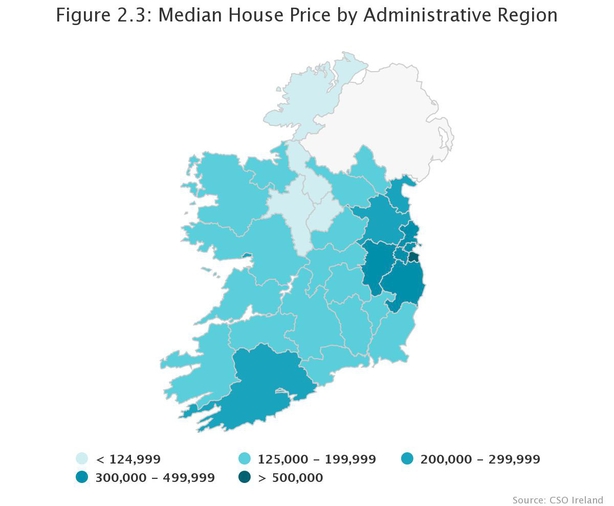 ---
The Dublin region had the highest median price of €366,000. Within this region, Dún Laoghaire-Rathdown had the highest median price of €530,000, while Fingal had the lowest at €337,000. 
The highest median prices outside Dublin were in Wicklow at €320,000 and Kildare at €300,000, while the lowest price was €100,000 in Longford.
Today's figures also show that a total of 4,316 home purchases were filed with Revenue in July. 
This represents a 5.2% increase compared to the 4,104 purchases in July last year.
The total value of transactions filed in July stood at €1.3 billion, the CSO added.
Commenting on today's figures, Goodbody economist Dermot O'Leary said that house price inflation picked up modestly in Ireland in July, ending a 14-month run of deceleration. 
"The market is a bifurcated one, with transactions and prices growing at affordable price points and falling at the premium end," he added.
While the Institute of Professional Auctioneers & Valuers (IPAV), said the overall 2.3% increase is a blip that masks a range of problems underneath and that according to its own data on actual prices achieved the best selling categories of property had actually fallen in value.
"What is more worrying is that while dwelling completions in the second quarter of the year were up 11.8% there was a marked decline of 29% in dwelling commencements," said IPAV Chief Executive, Pat Davitt.
"That is likely to mean a lack of confidence among many builders and developers."