A no-deal hard Brexit could put further upward pressure on rents if it sparks a wave of new demand from companies leaving London or if foreign direct investors favour Dublin over the uncertain environment in the UK.
This is according to HWBC's half yearly 2019 Dublin Office Market Review.
HWBC does not expect upward pressure on prime rents in the event of an orderly Brexit.
The latest HWBC review also predicts that prime office rents in Dublin city centre can hold their current level of around €60-€65 per square foot in future months. 
Despite recent record levels of take-up, it said that demand is still strong, underpinned by technology sector companies as well as also high demand from Government tenants.
A total of 905,000 sq ft of newly completed space was available in the first half of 2019, with 75% of this pre-committed on or before practical completion. 
HWBC noted that nearly half of the space under construction in the city and scheduled for completion by the end of 2021 is already reserved. This rises to 84% for the space due to reach completion by the end of this year.
Today's Dublin Office Market Review shows that the top five deals of the year so far were dominated by US tech firms. 
Salesforce and Facebook accounted for over 600,000 sq ft of take-up between them.
Salesforce agreed the largest ever single letting of 430,000 sq ft for their new campus in the north Docklands and Facebook took 175,000 sq ft at the newly refurbished Nova Atria South in Sandyford.  
The Government sector has also been active in the market with the Central Bank taking 200,000 sq ft in Dublin Landings in the North Docks.
The OPW also pre-let 160,000 sq ft in Smithfield for Tailte Eireann - the new organisation being formed from the merger of the Property Registration Authority, Ordnance Survey Ireland and the Valuation Office.
---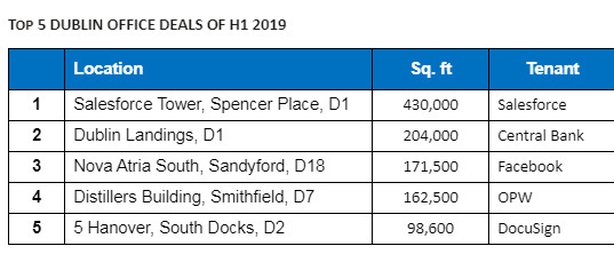 ---
Meanwhile, rents in the prime suburban areas of Sandyford and Leopardstown rose by 7% in the past year, to between €30-32 per sq ft. Rents are expected to rise further in this area.  
"With tighter supply at the top end of the market, lease commitments are moving to minimum 10 years term certain for the larger transactions. 
"Big tech is still driving a lot of this demand but there are also sectors such as fintech, medtech, pharma and life sciences adding to demand levels," HWBC said.
Tony Waters, Managing Director of HWBC, said the strength of the office market in recent years has tempted some commentators to wonder if the market may have peaked. 
"Whilst predicting the future can never be certain, the available evidence gives us every reason to think this isn't the case, and if a hard Brexit pushes more companies out of the UK we may even see rents rising higher," Mr Waters added.