Online retail sales showed strong growth in the second quarter of 2019 compared to the same period last year, but growth in the retail sector overall is down, according to data published by Retail Excellence.
Retail Excellence's second quarter Productivity Review examines sales data from 19 sectors.
It shows a 16% year-on-year increase in online sales, but decreases in a number of other sectors, including a 17% fall in sales of digital cameras, a 6% drop in lingerie sales and a 4% drop in jewellery sales.
Grocery and garden centre sales both grew, up by 3.6% and almost 5% respectively, while health stores showed growth of 4%.
David Fitzsimons, Retail Excellence Group Chief Executive, said: "Quarter 2 2019 proved a very mixed period for retail. A number of sectors traded like for like down. Trading was boosted over the period due to a very robust performance in grocery, helped in turn by a sustained period of clement weather."
He said Brexit uncertainty and eroding consumer sentiment were contributing to the overall decline in growth in the Irish retail sector, adding that "the outlook for the coming months is of significant concern."
---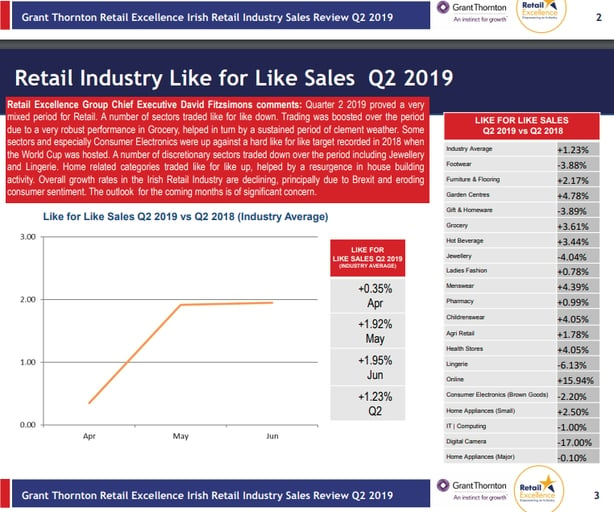 ---
Andrew Webb, economist at Grant Thornton, said: "The next set of performance figures will be crucial to see if this quarter's slower pace of growth takes hold or represents a pause for breath among consumers.
"Stand out performances this quarter were found in furniture and flooring sales, which recovered well from a decline in April.
"This may reflect some release of pent up demand as consumers waited for a Brexit that didn't come and reflect a higher pace in housing transactions," he added.