Oceans may cover just over 70% of our planet's surface, but the bulk of their watery depths – more than 80% - remains unmapped, unstudied and unexplored. To a savvy engineer, like XOCEAN CEO James Ives, these uncharted territories are nothing short of a data goldmine. 
"The ocean economy is growing at an amazing rate," Mr Ives said. "Groups such as the OECD predict the ocean economy is going to double – reach $3 trillion – by 2030. And that's growth in all sectors: everything from aquaculture through to transport. What we'd see as the foundation to any activity in the ocean is data." 
The process of collecting ocean data, however, can be an expensive and dangerous undertaking.
"I used to run a marine tech company and was a big purchaser of ocean data," Mr Ives said. "What I found over time is that getting data is quite a difficult process. It could take a lot of time; it could be technically quite challenging, and it could also be cost prohibitive. When I set [XOCEAN] up, I was really looking to address some of these challenges in the ocean data sector." 
"Traditionally, ocean data is collected using a survey ship – a vessel that's got sensors attached to it and a crew of people on board," Mr Ives said. "But there's a real need for this data ... Our business plan is to come up with a different way to collect it."
"Rather than using a manned vessel, we use an unmanned system. It's a small robotic vessel … roughly the size of an average car and about half the weight." 
XOCEAN's unmanned vessel sports a number of key advantages, one of which is safety.
"We require no people to go offshore," Mr Ives said. "The offshore environment, it can be hazardous." 
The XOCEAN vessel also has an environmental edge, generating "around a thousandth of the emissions of a conventional vessel … a minuscule carbon footprint." 
In addition to being safe and carbon efficient, XOCEAN vessels operate at a relatively low cost.
---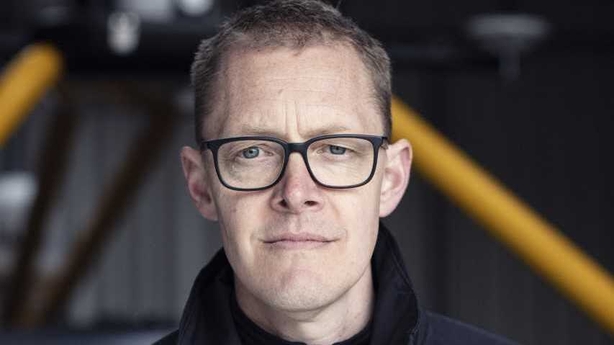 James Ives, CEO, XOCEAN
---
Despite a typical vessel at the center of it all, XOCEAN's path to market, according to Mr Ives, was "fairly typical … starting off with an idea, generating a business plan," receiving funds via Enterprise Ireland and HPSU.
"In the two years we've been in operation, we've grown to 18 people within the company," he said. "We have plans to grow considerably from there. We recently announced we're going to be recruiting an additional 60 people in the company. We recently opened a marine robotics technology center in Carlingford as part of that expansion. I guess what we're seeing is a really strong demand for the services and technology that we provide, fueling the requirement to grow the business … To date things have gone very well for us" 
That said, growth is not without its pains.
"One of the biggest challenges is managing the growth of the company," Mr Ives said. "We need more people, more assets, more resources … the feedback we're getting for our customers is [the product] is something we need more of. We need to scale the business to meet that demand. I would say our challenges are very typical to a growing company." 
XOCEAN plans to expand in three main sectors. 
"One would be governments agencies," Mr Ives said. "The people responsible for mapping the sea bed for commercial use or measuring environmental parameters," including the UK maritime and Coast Guard Agency now implementing a civil hydrography programme. 
Another would be the environmental space, e.g. "projects with Ireland's marine institute looking at fish stock assessment."
XOCEAN also provides data in the energy sector. e.g. oil and gas companies as well as the offshore wind industry.
Mr Ives hopes his company, as it widens its reach, can help promote ecologically responsible ocean activity by providing good data.
"We believe if people are going to develop projects in the ocean and they're going to do that in a responsible way, it's essential to do that with good data. Data is the foundation of any development in the ocean and we need to understand what the environment before we go through with a project." 
XOCEAN's unique positioning within the market, innovative technology and high ecological standards have proven quite attractive. 
"We're gaining a large amount of traction with our core customers," Mr Ives shared, "and we're giving delivering a service that they need. The uptake is really, really good." 
Building on his company's current success, Mr Ives wants to extend XOCEAN's reach internationally.
"At the moment we're very much focused on the European market," Mr Ives said. "The next step is for us to grow internationally in other markets such as China, North America, America, South America and Asia." 
Wherever there's there's water to be explored, really.
- by Michael Donovan