The average cost of running a family car for a year stands at €10,590, according to the AA's annual survey of motoring costs - a decrease of €98.11 on last year.
The survey also revealed a 7% drop in insurance costs, but the AA said the decrease has not been even across the market.
The AA said that groups like returning immigrants, young drivers and those with penalty points still pay "inordinately" high prices.
Conor Faughnan, AA Director of Consumer Affairs, said that for the second year in a row, the CSO findings in relation to insurance show a significant year-on-year drop. 
Mr Faughnan said that while this is a positive development, we are still a long way away from truly fixing many of the issues in the insurance system which contributed to the price rises seen from 2015. 
"It's true that some progress has been made in this space, but with each passing month it begins to feel more and more that Government have moved their attention onto other matters and that motorists are simply being forced to get used to higher insurance prices," he added.
---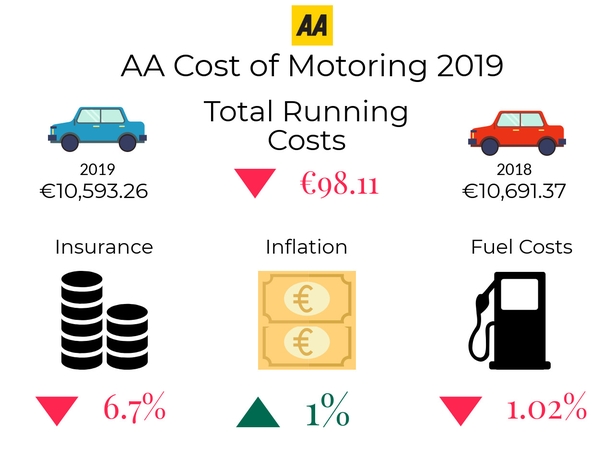 ---
Meanwhile, the AA's monthly fuel prices survey the average cost of a litre of fuel has dropped by 2.5% in the last 12 months. 
However, the group said the most recent drop in fuel prices came after a period of significant increases at the pump earlier in 2019.
The average price of petrol at 143.9 cent per litre as of June is down about 3.7 cent per litre on the price 12 months ago. 
For a typical motorist in a Band B car this means they will pay €1,665 for their year's fuel, down from €1,707. Of this figure, over 60% is made up of various taxes.