Residential property price growth cooled slightly on an annual basis in May, but prices rose at their fastest monthly pace since late last year.
The latest figures from the Central Statistics Office show that house prices nationwide rose by 2.8% in the year to May - the lowest rate of growth since July 2013 and down from a rise of 12.4% the same time last year.
On a monthly basis, residential property prices increased by 0.5%, up from 0.2% in April.
A sharp recovery in house prices began six years ago and accelerated in 2017 amid tight supply.
But price growth lost steam over the past 12 months as prospective buyers' affordability was stretched and record-high rents limited the ability of others to save a deposit.
Today's CSO figures show that Dublin residential property prices rose by 0.6% in the year to May, with house prices up 0.4% and apartment prices rising by 0.8%.
The CSO said the highest house price growth in Dublin was recorded in South Dublin at 4%, while prices in Dún Laoghaire-Rathdown saw a decline of 2.6%.
Meanwhile, residential property prices in the rest of the country grew by 5.1% in the year to May, with house prices up by 5.2% and apartment prices rising by 5.2%.
Today's figures show that the region outside of Dublin with the largest rise in home prices was the Border at 15.2%, while the smallest rise was recorded in the Mid-East at 0.5%.
The CSO said that property prices nationally have increased by 82.6% from their trough in early 2013.
Dublin residential property prices have risen 93.4% from their February 2012 low, whilst prices in the rest of the country are 79.9% higher than their trough in May 2013.
Today's CSO figures also reveal that consumers paid a median price of €251,000 for a home on the residential property market in the 12 months to May.
The Dublin region had the highest median price of €366,000 in the year to May.
Within the Dublin region, Dún Laoghaire-Rathdown had the highest median price at €538,000, while Fingal had the lowest at €334,999.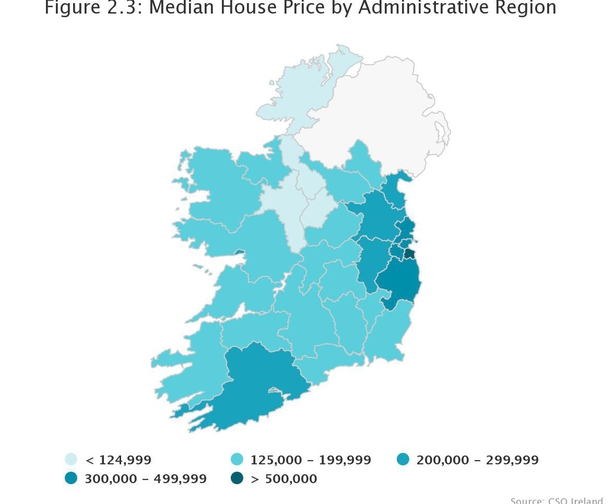 ---
The CSO noted that the highest median prices outside Dublin were in Wicklow (€315,000) and Kildare (€295,000).
The lowest median price paid for a home was €100,000 in Leitrim.
Commenting on today's CSO figures, economist Alan McQuaid said a lack of supply remains the key issue for the Irish housing market with first-time buyers continuing to be priced out of the market.
But he noted that new supply is coming on stream. Last year a total of 18,072 new dwellings were completed, a 25% increase on 2017.
While this is forecast to rise to around 23,000 in 2019, it is still below the estimated figure of 35,000 a year needed to meet demand in the short-to medium-term, Mr McQuaid said.
The economist predicted that overall house price growth will stay in positive territory on a year-on-year basis for a while yet. 
"The biggest rise is likely to come from outside the capital, with the asking price for houses in more expensive areas increasing at a slower rate or decreasing in some places," he added.
Meanwhile, Goodbody economist Dermot O'Leary said that housing transactions continue to be lacklustre, but are being boosted by purchases by non-households.
Mr O'Leary noted that in the three months to May, market transactions grew by 5% year on year, but within this, new home transactions were flat.
He also said that household purchases of new homes fell by 8% year on year so far this year, while non-household purchases grew by 74%. 
"Non-households continue to account for a growing share of new home sales, reflecting the ongoing interest by build-to-rent investors and the public sector," the economist said. 
"Given that there is an increased supply of unsold stock, non-households are not crowding out the private buyer but are an important source of demand for builders," he added.