The Central Bank has approved a salary of €286,790 for incoming Governor Gabriel Makhlouf, according to the minutes of the Central Bank's Commission meeting on May 29.
The Central Bank said Mr Makhlouf's pay is "consistent" with the salary paid to former Governor Professor Philip Lane.
Professor Lane left the position to take up the role of chief economist at the European Central Bank in June.
Professor Lane had been paid a salary of €270,501 for 2018, but the Central Bank agreed to increase his pay at a meeting last December. This brought him up to €286,790 - in line with the new Governor's pay.
Mr Makhlouf is due to start his new role in Dublin in September and will also receive relocation expenses as he moves from New Zealand to Ireland.
The minutes also noted that the Governor's salary would be reviewed on an annual basis.
New Zealand's State Services Commission recently criticised Gabriel Makhlouf's "clumsy" handling of embarrassing budget leaks last month.
Mr Makhlouf initially said the leaks resulted from systematic and deliberate hacking.
However, it soon emerged that the treasury had not fallen victim to a sophisticated cyber-attack, but had accidentally published budget details on its website.
Commenting on the issue, Finance Minister Paschal Donohoe had said he wished a budget leak in New Zealand which led to an inquiry into Mr Makhlouf's conduct had not happened.
But he added that the outgoing Treasury Secretary has a strong track record of service over many decades.
Mr Donohoe said he had considered the Commission report in its entirety.
"I have noted in the report it makes reference to his integrity, his political neutrality and his desire to act in good faith at all times," the Minister added.
Today's minutes also said that Sharon Donnery, currently the Central Bank's acting Governor, declared a small shareholding in a financial institution to the Commission.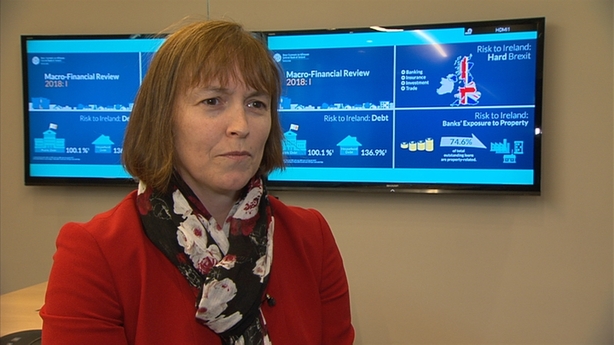 While the shareholding was in compliance with the Central Bank's Market Trading Rules, Ms Donnery said she would arrange to dispose of the shares so as to ensure compliance with the legislative prohibition concerning the Governor holding shares in a financial institution.
"The Commission noted the declarations and agreed that these items did not pose a conflict," the minutes added.