A Central Bank inquiry into the actions of a number of former senior managers at Irish Nationwide Building Society (INBS) has heard claims that the lender gave large loans with high loan-to-value ratios to borrowers on a profit-sharing basis, without proper credit risk policies being in place.
The inquiry's latest module, the public hearings which got under way today, is probing whether INBS's former chief executive, Michael Fingleton, and former finance director, John Stanley Purcell, failed in their regulatory responsibilities between 2004 and 2008.
Mr Purcell will deny he failed in his responsibilities, the inquiry was told, and will contest the claim that INBS did not have a formal credit risk policy for profit-sharing.
However, due to ill-health, Mr Fingleton has been excluded from proceedings and a stay put on the hearing insofar as he is concerned, until a future date when he is well enough to take part again, chairperson Marian Shanley confirmed.
She said the inquiry members are satisfied that this approach would be fair, despite concerns expressed by Mr Fingleton's son, Michael Fingleton Jr, on his father's behalf.
Irish Nationwide Building Society collapsed during the financial crash, requiring a taxpayer bailout of €5.4 billion.
The seventh module of the Central Bank-established inquiry is examining claims that there was no formal credit risk policy relating to the establishment of profit-share agreements between the society and some customers it gave loans to.
In his opening statement, Senior Counsel Brian O'Moore for the legal practitioner team assisting the inquiry said the three members would be asked to consider the scale of the profit-sharing deals entered into by the society in the course of commercial lending.
He said the significance of these loans was not only the amount of money lent, but also the levels of loan-to-value ratio of them.
In some cases, he added, there was also a complete moratorium on the repayment of capital and interest during the duration of the loan period and that they were often quickly approved.
Mr O'Moore outlined five examples of such loans given by the society to customers.
In one example in 2005, INBS agreed to give a loan of €10.9m to a property developer to make a purchase of 43 acres of land in Ireland at a loan-to-value ratio of 100% - far higher than could be expected, he said.
The loan was given on the basis of a full repayment moratorium for the three-year term and an agreement was struck with the borrower that INBS would receive 40% of any net profit from the venture.
Mr O'Moore said the documents show the "self-suggestive" valuation of €10.9m was the same as what was actually paid for the property.
But a later valuation of the lands provided after the loan offer had been taken up by the borrower revealed a "hope value" of €12.3m, which would only be achieved if rezoning was carried out, he added.
However, no valuation was provided for a scenario in which the land was not successfully rezoned.
The only security for the debt, he added, was a charge over a property previously bought with the building society's own money.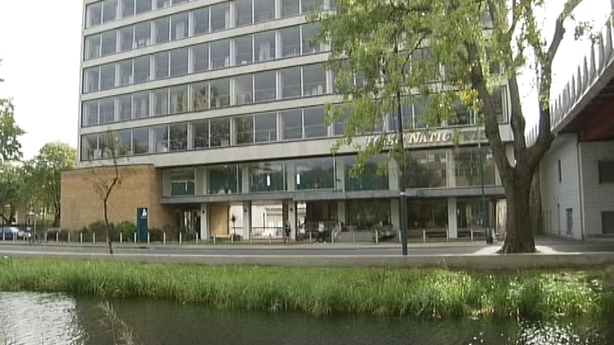 A waiver was also put in place so that life assurance cover was not required.
Mr O'Moore also referred to a report prepared for the building society by KPMG in 2004, which showed very significant growth in profit-sharing arrangements on commercial lending over the three previous years.
The report also said that according to INBS management, customers do not request profit-sharing agreements, but the society tries to secure them where it can.
The document also outlined the key aspects of INBS's profit-sharing agreements, including a full or partial moratoriums on repayments, potentially high loan-to-value ratios and shortened lead-in times for the loans.
It also referred to the policies and procedures in place around such arrangements, although Mr O'Moore claimed these were not set out formally by the society.
The inquiry was told that another report prepared by KPMG in 2007 for the purpose of facilitating a potential sale of the society, outlined how INBS management didn't seek proof of profit at the end of the term of a profit-sharing loan, but instead placed trust in borrowers in relation to information provided.
A year later in a letter to the financial regulator, Mr O'Moore said, John Stanley Purcell described how fees from profit-sharing arrangements had become an important area of commercial lending, with 65% of the society's €6bn commercial loan book carrying a right to receive a share of the profit.
But the inquiry heard evidence that despite the growing importance of profit-sharing to the business, there was no credit-risk policy in place governing such transactions, and repeated recommendations to put one in place were not acted upon.
In a 2004 management letter, KPMG recommended that INBS formalise its existing policies and procedures around the granting and monitoring of profit-sharing on commercial property loans, Mr O'Moore said.
The same year the financial regulator wrote to INBS to express serious concern about issues including the risk posed by a significant shift in the building society's overall loan portfolio in a short space of time and the need to have appropriate policies and sufficient controls in place to manage that risk.
The inquiry also heard that an internal audit of the Belfast branch in 2004 made a series of recommendations for corrective actions, including that a formal credit risk policy governing fee agreements was needed.
And a 2006 internal audit report also identified new areas for improvement and issued recommendations, including that a formal profit-sharing agreement procedure was needed, the inquiry was told.
However, despite the warnings, Mr O'Moore claimed little action was taken by senior management to address the issues.
Mr O'Moore said the inquiry will have to decide whether risk was properly calibrated when entering into profit-sharing loans, as well as address the question of whether adequate security was taken.
He said the the society may have assumed a level of risk it didn't have to in order to justify a higher level of profit-share.
Mr O'Moore said Mr Purcell contests the proposition that INBS did not have a formal credit risk policy for profit-sharing.
Mr Purcell also denies he was responsible for following up on the internal audit recommendation and claims he had no responsibility for credit risk, the inquiry heard.
The former finance director will state that internal audit did not report to him and it was up to the person that they did report to take action on such recommendations.
Mr Purcell will also claim, according to Mr O'Moore, that the lender's credit risk policy on profit-sharing was formally set out in the KPMG review.
He will argue that the KPMG management letter was not a recommendation that procedures or policies be put in place.
The inquiry later heard Mr Purcell's opening statement in private before adjourning for the day.
It will begin hearing evidence from a total of 17 witnesses on 9 July.