US President Donald Trump has criticised European Central Bank President Mario Draghi's comments calling for possible additional policy changes by the ECB.
Donald Trump said Mr Draghi's comments would spark unfair European competition against the US.
Mario Draghi just announced more stimulus could come, which immediately dropped the Euro against the Dollar, making it unfairly easier for them to compete against the USA. They have been getting away with this for years, along with China and others.

— Donald J. Trump (@realDonaldTrump) June 18, 2019
Earlier, Mario Draghi said the European Central Bank will ease policy again if inflation does not head back to its target, reinforcing market expectations that it will offer further stimulus in the coming weeks.
The ECB has undershot its inflation target of just under 2% since 2013 and a slowdown in growth has raised the risk that price growth will ease further, despite years of extraordinary accommodation.
"In the absence of improvement, such that the sustained return of inflation to our aim is threatened, additional stimulus will be required," Mario Draghi told the ECB's annual conference in Sintra, Portugal.
He added there was still "considerable headroom" for more asset purchases.
He also said the ECB could also adjust its guidance, cut rates and provide mitigating measures to offset any unwelcome side effects of negative rates.
"We will use all the flexibility within our mandate to fulfill our mandate - and we will do so again to answer any challenges to price stability in the future," Mr Draghi said.
He added that the ECB would use the "coming weeks" to study its options, suggesting that action from the bank may come sooner rather than later.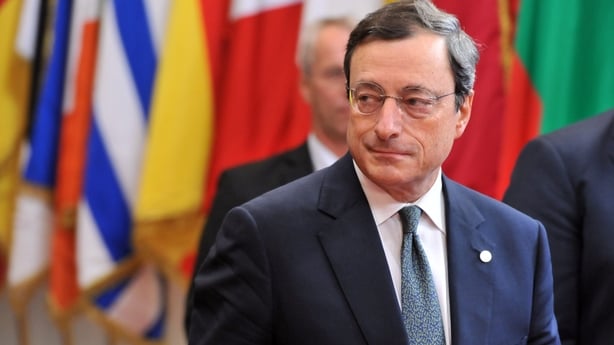 Mario Draghi also dismissed market concerns that asset purchases lacked potency as the ECB was coming up against its self-imposed limits, including a rule that prevents the ECB from buying more than one-third of a particular country's debt.
He noted that the limits must be adjusted to the challenges faced by the bank and noted that the European Court of Justice had already confirmed that the ECB has broad discretion in using its tools.
"We are committed, and are not resigned to having a low rate of inflation forever or even for now," Mr Draghi said.
"That aim is symmetric, which means that, if we are to deliver that value of inflation in the medium term, inflation has to be above that level at some time in the future," he added.
Donald Trump has repeatedly criticised currency manipulation by other countries with which the US has large trade deficits, saying weaker currencies abroad give trading partners an unfair advantage and hurts American workers.
If a country's currency is artificially low, its exports are more competitive. Higher US interest rates would generally increase the value of the dollar, making US exports more expensive.
Earlier in June, Trump criticised China, with which he is engaged in a trade spat, for devaluing its currency and said it created an uneven playing field for commerce.
He made similar criticisms of Russia and China in April, remarks that Treasury Secretary Steve Mnuchin said were "a warning shot at China and Russia about devaluation."
Trump has been critical of the US Federal Reserve for its recent interest rate increases and has pressed the independent central bank to cut rates at a policy meeting this week.
But the Fed is expected to leave borrowing costs unchanged tomorrow night.