New figures from the Central Bank show that Irish mortgage holders continue to pay the second highest interest rates in the euro zone.
The average interest rate on all new mortgages issued here in April stood at 3.03%, an increase of three basis points on the previous month.
This compares to the average rate of 1.7% for the euro area, with only Greek mortgage interest rates higher than Irish rates.
WATCH: Irish banks charge some of the highest mortgage interest rates in the Eurozone. Are they ripping-off customers? Adam Maguire and Petula Martyn explain how the banks set their rates, to give you an idea of what you're paying for... https://t.co/RYjVV1eLEJ pic.twitter.com/1xtPQ4GH7n

— RTÉ Business (@RTEbusiness) June 5, 2019
Today's figures from the Central Bank show that the volume of new mortgages amounted to €598m in April.
This brought the total of new mortgages issued in the first four months of the year to €2.3 billion, an increase of 11% on the same time last year.
The Central Bank noted that fixed rate mortgages accounted for 72% of all new mortgages in three months to April, compared with 81% in the euro area.
With fixed rate mortgage agreements accounting for an increasing share of the market, the Central Bank said that volume of new variable rate mortgages declined to €178m in April
---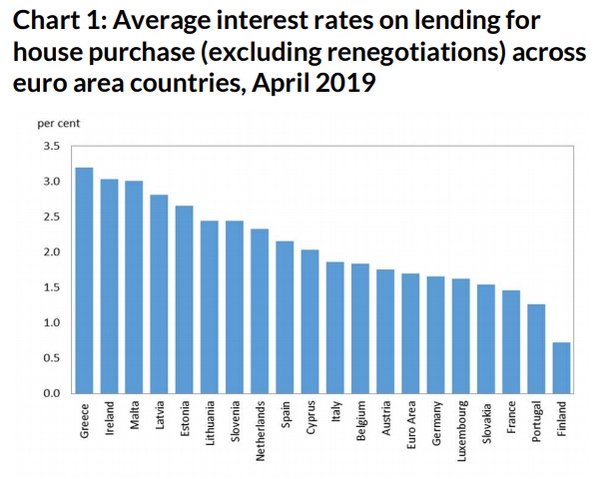 ---
The average interest rate on new variable rate mortgages stood at 3.32%, averaging 3.26% over the previous 12 month period, it added.
Meanwhile, interest rates on new deposits remained unchanged for the ninth month in a row in April at 0.04%. This compares to a rate of 0.37% in the euro area.