Dublin and Leinster continue to dominate the Irish property market, new analysis of the Property Price Register shows. 
The research, which was carried out by MyHome.ie, shows that sales in Leinster increased by 3.7% last year to 33,722.
National sales increased by 3.8% to 56,836 with sales in Leinster accounting for 59% of the national total. 
The analysis also shows the total value of property sales in Leinster increased by 14.5% to €12.2 billion - meaning that sales in the province made up 73% of the €16.8 billion spent on residential property in Ireland last year.
---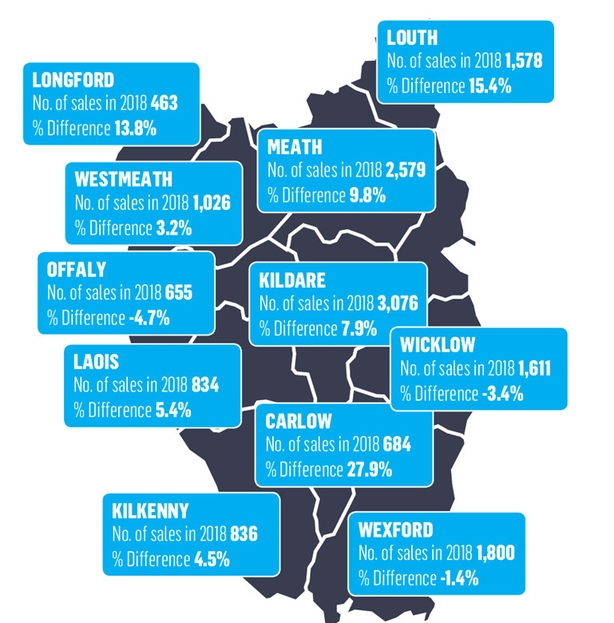 ---
In fact, three out of every four euro spent on residential property last year was spent in Leinster last year, MyHome.ie stated.
Dublin, with 18,580 sales, comprised just under a third of total sales with the value of those sales contributing 52% of the €16.8 billion total.
Meanwhile, the level of residential property sales in Munster increased by 2.2% to 14,178 last year, according to the MyHome figures. 
Property sales in Munster accounted for 25% of total national sales.
---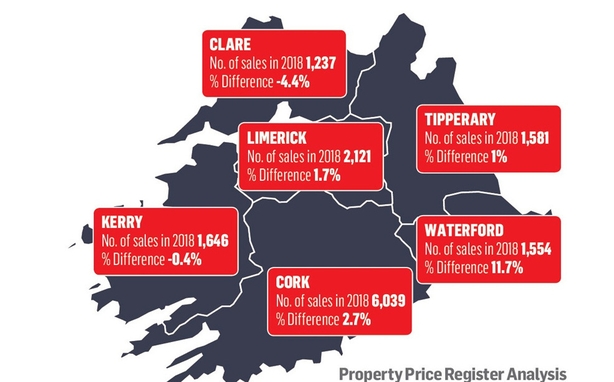 ---
Cork played a leading role with sales in the county last year increasing by 2.7% to 6,039 - this represented 43% of total sales in Munster and over 10.6% of national sales.
The value of Cork sales also increased significantly, rising by over 20% from €1.36 billion to €1.63 billion. Cork sales made up over half of the €3 billion which was spent on residential property in Munster last year.
And the level of residential property sales in Connacht/Ulster increased by 2.4% in 2018 to 8,936.
This resulted in Connacht/Ulster sales making up 16% of total national sales.
---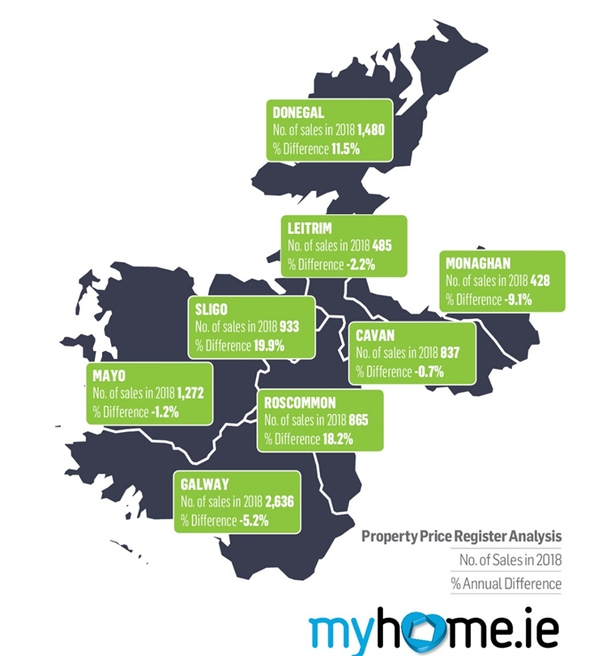 ---
Today's research shows that sales were up in 16 counties and down in 26 last year.
However, the value of sales was only down in three counties - Monaghan, the county with the lowest number of sales last year, Wicklow and Clare. 
MyHome.ie noted that Carlow recorded not just the biggest increase in sales, with a rise of 28%, but also the biggest increase in the value of sales, up 47%. 
Longford had the lowest number of sales with 463.
The Managing Director of MyHome.ie, Angela Keegan, said the increase in sales is encouraging as it shows the market is continuing to recover. 
She said that for a market like the Irish market - with about two million homes - we should be seeing at least 4% of those properties changing hands annually. 
"We're currently under 60,000 sales nationally and we need to get to circa 80,000 sales a year, but the graph is moving in the right direction," Ms Keegan said.
The MyHome boss also noted that there are 22,200 residential properties for sale on MyHome.ie. 
"This is 5% up on this time last year when there were 21,161 properties for sale. 
"There are also 514 new developments on the site at present, so new homebuilding is coming on stream and making an impact," Ms Keegan said.