The number of mortgages in arrears for more than two years here grew slightly in the first quarter of the year, according to new data from the Central Bank of Ireland.
In total, 45% of of the total amount of mortgages behind in their repayments at the end of March were in arrears for over 720 days, up from 42% at the end of 2017.
According to the regulator, the decrease in this category had slowed already in 2018 and increased marginally in the first three months of the year.
This, the banks says, is in contrast to shorter term arrears categories, which continue to decline and have been falling for 22 straight quarters.
Overall, 62,834 of the 726,089 mortgages on principal dwellings or family homes here are not meeting their repayment schedules as required. 
That is down 0.4% on the previous quarter.
More than two thirds of the total number of troubled loans are 90 days or more in arrears, down 0.8% over the quarter.
The number of accounts in arrears over 720 days increased by 1.5% or 414 in the first quarter.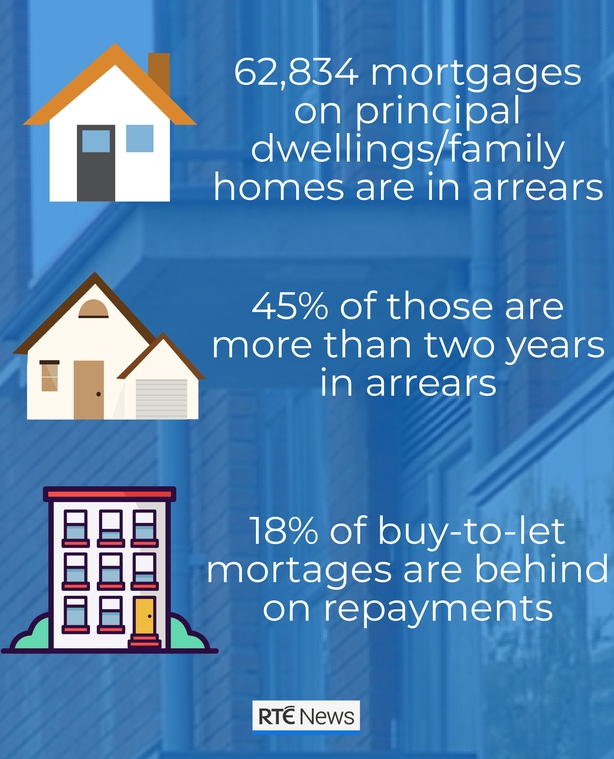 €2.4 billion worth of loans are now in this category, representing 88% of all the mortgage arrears money owed to various lenders.
At the end of the quarter, a total of 99,707 family homes were categorised as restructured, the bank says.
This figures is down by 7,366 compared to the total at the end of the final quarter of last year.
Over three quarters of customers with accounts that have been restructured were not behind in their repayments at the end of March.
There were 127 family homes repossessed during the period, down 36 on the previous three months, with 89 of those were voluntarily surrendered or abandoned, with the rest repossessed on foot of a court order.
In the buy-to-let sector, 18% of mortgages were behind in repayments when the first quarter closed, up 2% compared to the last three months of 2018.
Those buy-to-let loans in arrears for over 90 days were up 4% while those buy-to let borrowers behind in repayments for 720 days or greater was up 8.7%.