The Roe & Co Irish Whiskey distillery will open its doors at St James's Street in Dublin city centre later this month.
Inspired by one of the biggest names in Irish whiskey in the 19th century, George Roe, the Guinness Power Station has been regenerated into a new visitor experience and urban distillery. 
Roe & Co owner Diageo said that visitors to the Roe & Co distillery will experience one of the most immersive experiences in whiskey distilling. 
Dublin's latest whiskey distillery and whiskey experience is led by a female team in Diageo comprising distillers, blenders, marketeers, bartenders and commercial specialists.
These include Gráinne Wafer, Roe & Co's global brand director; Caroline Martin, Diageo's Master Blender; Lora Hemy, Roe & Co's Head Distiller; Fiona Sheridan, Roe & Co's Assistant Distiller; Tanya Clarke, General Manager Reserve & Incubation Brands; Hayley Millner, Marketing Manager, Roe & Co Irish Whiskey and Shannon Green, Senior Engineering Project Manager.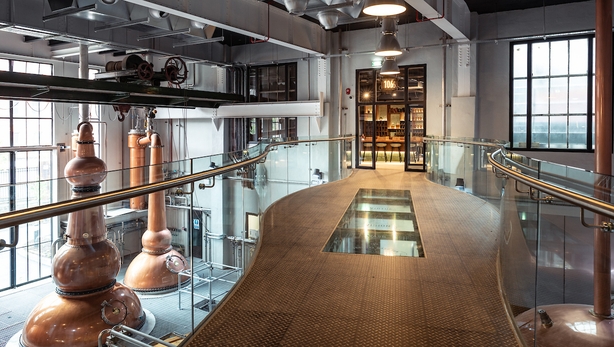 There were just four working Irish whiskey distilleries at the start of the decade but the opening of the Roe & Co Distillery sees that number rise to 27. 
The distillery will distil 14,000 litres of whiskey in every run, with an annual maximum capacity of approximately 500,000 litres of alcohol.
The new home for Roe & Co has already garnered global attention after the Lonely Planet which named the distillery one of the 10 best new openings in the world for 2019.
Diageo CEO Ivan Menezes said that one of the most iconic buildings of the Dublin skyline has been reimagined and regenerated into a world-class distillery and experience for Roe & Co.