The number of people signing on the Live Register fell to the lowest level since February 2008, new figures from the Central Statistics Office show.
The Live Register total recorded a monthly decrease of 3,500 - a fall of 1.8% - in May, which brought the seasonally adjusted total to 190,900.
The CSO said that on a seasonally adjusted basis the Live Register showed a monthly decrease of 1.6% for men, while the number of women signing on in May fell by 2.3%.
It also noted that the number of male long term claimants decreased by 20.4% in the year to May, while the number of long term claimant who are women fell by 18.1%.
Meanwhile, the number of people under the age of 25 who were signing on decreased by 17.4% in May.
The CSO said that annual decreases in youth joblessness have occurred every month since July 2010.
Earlier this week, the CSO said that the unemployment rate fell to 4.4% in May, down from a rate of 4.6% in April.
---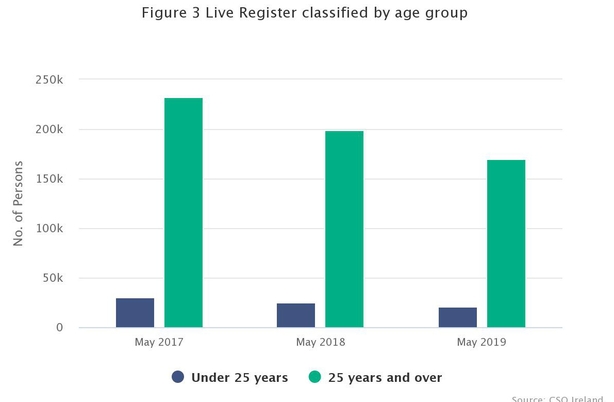 ---
That means the economy has exceeded the threshold for what is commonly referred to as full employment - a 5% unemployment rate.
The Live Register is not designed to measure unemployment as it includes part-time workers - those who work up to three days a week - as well as seasonal and casual workers entitled to Jobseeker's Benefit (JB) or Jobseeker's Allowance (JA).