The Department of Finance is conducting an examination of potential policy options to mitigate against the risk of over-reliance on corporation tax receipts. 
A fiscal framework aimed at reducing reliance on corporation tax will be also be published by the Department when the Summer Economic Statement is published later this year. 
The move comes as concern grows about the Exchequer's growing reliance on buoyant corporation tax receipts. 
The amount of corporation tax collected by the state last year increased by 26% to €10.4 billion. 
The increase was driven by higher payments from manufacturing companies and increased payments from big multinational companies. 
The share of corporation tax from the top 10 companies increased to 45% during the period, underlining the reliance the state has on a very small handful of firms. 
However, Revenue data indicates the proportion of receipts contributed by the top ten taxpayers in any given year has been relatively stable over time, the department claims. 
In response to a parliamentary question on the issue from Fianna Fáil's finance spokesman Michael McGrath, the Minister for Finance said he recognises that there has been a substantial increase in corporation tax receipts in recent years. 
Paschal Donohoe said that while that is, in many ways, a positive reflection of the economic recovery and improved trading conditions, he added he is also aware that there are risks associated with this increase.
In particular, he said, it is important to ensure that longer-term spending commitments are not entered into on the basis of a potentially short term upswing in corporate tax revenues. 
Mr Donohoe said his Department and Revenue have highlighted the risk of reliance on corporation tax, and the Government has taken actions to address them, including setting up the Rainy Day Fund and broadening the tax base. 
Nonetheless, the minister confirmed to Mr McGrath that his officials are assessing the potential policy options to mitigate against the risk, but said he would not be commissioning an independent review into the matter.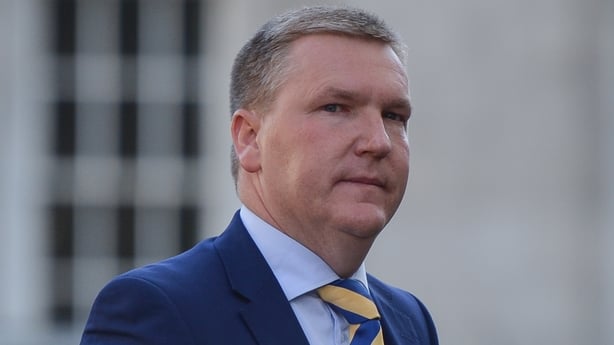 "The surge in corporation tax receipts in recent years is certainly welcome but the Government's dependence on these receipts has undoubtedly now opened up a significant vulnerability in the public finances," Mr McGrath said. 
"The truth is that these receipts are particularly volatile and our receipts are heavily concentrated in the hands of a very small number of multinational companies, so the favourable swings we've enjoyed with corporation tax in recent times could start moving in the other direction at any point," he stated.
He added that he thinks the Minister is making a mistake by not commissioning an independent review into the sustainability of our corporation tax receipts. 
Deputy McGrath also called for an improvement in the tax environment for Irish small and medium sized businesses.  
"Having a thriving indigenous enterprise sector in Ireland is an important step in insulating ourselves against an over-reliance on multinational receipts that may well prove to be temporary," Mr McGrath said.