Three-times Formula One champion Niki Lauda, regarded as one of the finest racers of all time and who later became a successful airline entrepreneur, has died at 70 after battling declining health.
Austrian Lauda, who was hospitalised in January for about 10 days while suffering from influenza and had a lung transplant last August, died yesterday, his family said.  
"His unique achievements as an athlete and entrepreneur are and will remain unforgettable," a statement from his family, published by Austrian media, said.
"His tireless zest for action, his straightforwardness and his courage remain a role model and a benchmark for all of us, he was a loving and caring husband, father and grandfather away from the public, and he will be missed," it added. 
Lauda won two world championships in 1975 and 1977 with Ferrari and a third in 1984 with McLaren.
He founded his first airline, Lauda Air, in 1979 which he would sell to Austrian Airlines three decades later, having made a habit of surprising passengers by flying their plane himself.
That career brought its own major setback in 1991 when a Lauda Air plane crashed in Thailand, killing 223 people. 
Eventually the Boeing plane rather than his airline was found to be at fault. 
"People always think that the worst time of my life must have been after the German Grand Prix crash, but it wasn't," he told the Observer newspaper in 2006. 
"When you run an airline and more than 200 people want to go from A to B and they don't arrive - that's a different responsibility."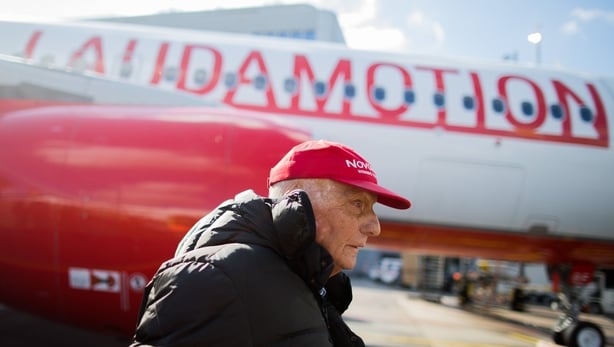 His love of aviation endured. Last year he bought back another airline he founded, Niki, after its new parent Air Berlin went bankrupt. 
He rebranded it Laudamotion and soon sold a stake to Ryanair, quickly recouping much of his investment.
In a statement, Ryanair CEO Michael O'Leary said that Niki Lauda will remain in people's hearts and memories as a visionary leader, a legend of Formula 1 and an aviation pioneer. 
Mr O'Leary said he was an exceptional entrepreneur whose courage and fighting spirit inspired millions. 
"While we are devastated at his untimely passing, his spirit and vision will live on in Laudamotion, which proudly carries his name and his entrepreneurial spirit," the Ryanair CEO said. 
"It's a sad day for Formula 1 and Laudamotion," he added.