Convenience food maker Greencore has reported a 17% rise in pre-tax profits for the six months to the end of March despite a "challenging" UK grocery sector.
Greencore said its adjusted pre-tax profits rose to £37.7m from £32.2m, but its group revenue fell by 4.6% to £701.4m from £734.9m.
Revenue from continuing operations rose, however, by 5.4%.
During the period the company completed the sale of its US business to Hearthside Food Solutions for $1.07 billion.
Greencore has declared an interim dividend of 2.45 pence per share - an increase of 11.4% on the same time last year.
Greencore's chief executive Patrick Coveney said the company has had a good first half to the year, with clear financial and operational progress as it extended its leadership position in key food to go categories in the UK.
"What hopefully comes through in these results is the quality and growth of the core Greencore business, which is the convenience or 'food-to-go' business in the UK, which makes sandwiches, salad, sushi and a whole load of interesting new immediate consumption food products for consumers in the UK, and that's growing strongly for us," he said on RTÉ's Morning Ireland.
Mr Coveney said that trading conditions in the wider UK grocery sector remain challenging.
But he added that the growth outlook for the business continues to be encouraging, underpinned by favourable consumer trends and ongoing investment by our customers.
Greencore said the first half of its fiscal year was one of "particular uncertainty" around Brexit, adding that it engaged "intensively" with customers and other stakeholders to plan for potential Brexit scenarios.
The company said that while the overall financial impact associated with this preparation was minimal in the period, it incurred modest incremental working capital outflows.
Greencore said it had been engaged in Brexit planning since the result of the referendum was first announced and the company monitors closely the potential implications of Brexit on its business, particularly in the areas of volume, material sourcing and labour availability.
The company said it continues to believe that the risks from Brexit are manageable in the medium-term, while acknowledging that the near-term challenges associated with a disorderly exit remain uncertain.
"We'd be concerned about any disruption in the port infrastructure, so we're looking at different ways that we can get products in at short notice," Mr Coveney said, referring to what he said was a handful of fresh products that could not be grown in the UK.
"Our best sense is the demand for our products would remain largely unchanged, we operate at every price point. I know it's a bit of a cliche but people do have to eat and we sit at the heart of so much of the diet of UK consumers and I'd expect that we'll continue to do that regardless of what happens in Brexit," he stated.
The sale of the US business has made Greencore almost entirely dependent on the British market, however Mr Coveney did not express any remorse at last year's deal.
That is despite the fact that it came less than two years after the company acquired Peacock Foods as part of a massive US expansion, something he described at the time as "transformational".
"I had a huge personal enthusiasm for what we were doing in the United States and I never pretended otherwise," he said.
"We bought the business for $750m and a little more than 18 months after that we sold it for $1.1 billion - so certainly shareholders were appreciative of the value creation... at that sort of multiple we felt it was a deal we had to do," he said,
While around half of the money from the deal went back to shareholders through a share buy-back, he said Greencore had said aside "quite a bit" for acquisitions.
"In setting aside the debt, we've also reduced the level of indebtedness in the business by nearly £300m, so that gives us a stronger balance sheet and more capacity to acquire businesses going forward," he said.
"We're not signalling that anything is imminent in that regard but I think if you look over the next 2-3 years, what you'll see is a business that has very good underlying growth, because of the parts of the food market that we're in.
"I expect we will make multiple smaller acquisitions that give us access to new product types, new channels in the UK food market and also give us access to new capabilities that we think will be relevant for what consumers are going to want to eat and how they're going to shop," he added.
Greencore said that reported revenues from continuing operations in its Convenience Foods UK and Ireland division fell by 4.6% to £701.4m, mainly as a result of site disposals and exits from some businesses.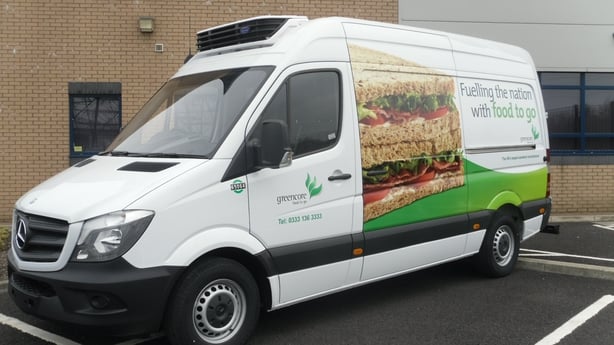 Adjusted profits for the division rose by 0.9% to £44.7m with Greencore noting a challenging UK trading environment due to intense retail competition, cost inflation and cautious consumer demand especially in the context of uncertainty around Brexit.