A new all-island business monitor shows that businesses are continuing to defer decisions and investments against the backdrop of Brexit.
InterTradeIreland's latest All-island Business Monitor reveals that the number of businesses planning to invest in innovation remains low, with just 6% of firms planning to spend on research and development over the next 12 months.
The monitor also shows that only 4% of firms considered upgrading or changing premises, while only 11% of business increased levels of staff training in the first quarter of the year, compared to 17% the same time last year.
IntertradeIreland is a cross-border trade and business development body set up after the Good Friday agreement.
Its latest monitor also shows that employment levels are remaining static, with 89% of businesses not increasing or cutting staff in the past quarter.
The group reports a similar pattern with sales, with 65% of those surveyed reporting no change.
Meanwhile, the monitor shows a slowing down in the performance of cross-border traders, with only 18% reporting an increase in sales in the first quarter of 2019, compared to 26% in the previous quarter.
44% of cross border traders said they have been negatively impacted by Brexit.
Aidan Gough, InterTradeIreland's Strategy and Policy Director, said while the wider economy on the island remains resilient, there are further signs of difficulties generated by the uncertainty around Brexit.
He said that businesses are cautious and this could potentially impact on their growth prospects.
---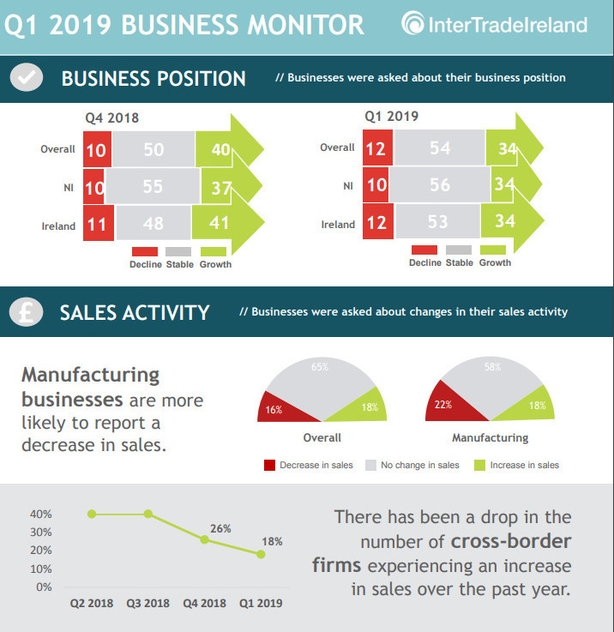 Mr Gough said the drop in the number of cross-border traders reporting sales increases is also a concern.
"Our research points to the significantly increased productivity of cross-border traders over firms that do not export; bringing into sharp focus the value of encouraging growth in cross-border trade," he stated.
InterTradeIreland has a number of supports and services to help businesses enter a new jurisdiction for the first time and it has helped over 39,000 businesses explore new cross-border markets, develop new products, processes and services and become investor ready since it was set up in 1999.
IntertradeIreland's quarterly business monitor is based on a survey of over 750 small and medium sized companies across the island of Ireland.