The chief executive of Ulster Bank has said the bank expects to carry out a further sale of non-performing loans in order to reduce its stock of bad loans closer to the European Central Bank target of 5%.
Jane Howard made her comments in her first appearance before the Oireachtas Committee on Finance, Public Expenditure and Reform.
Ms Howard said it is likely that the ECB target will not be reached by the bank until next year, rather than this year.
However, she added that the bank's first priority is to help customers in arrears to see if a solution can be found. 
Ulster Bank CEO says more loan sales are planned pic.twitter.com/OGWLIeQVo2

— RTÉ Business (@RTEbusiness) May 9, 2019
Under questioning from Fianna Fáil's finance spokesman Michael McGrath, Ulster Bank's chief financial officer Paul Stanley told the committee any further loan sale will principally be made up of family homes, as most non-performing buy-to-let loans are now gone. 
He said the next loan sale, if it goes ahead, is likely to take place before the end of this year. 
On the tracker issue, the bank confirmed it had previously made a €297m provision to deal with the issue, roughly split half and half between the cost to the bank and compensation to customers.  
€120m was paid out up to the end of March, Mr Stanley said, and a further €30m has still to be paid in redress to 190 customers who it has so far not been able to contact. 
Asked by Sinn Féin's Pearse Doherty whether the bank had made provision for a Central Bank fine, Mr Stanley said money had been set aside within the overall €297m figure, but he declined to say how much.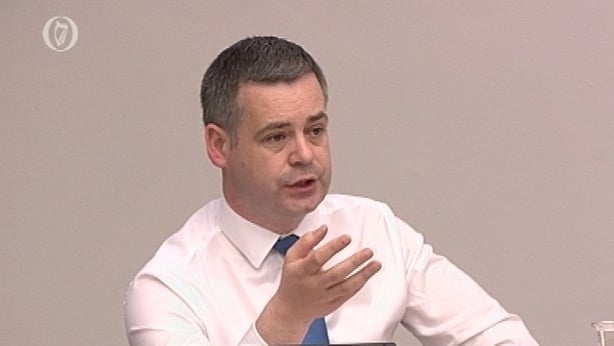 Mr Doherty said it was clear that the amount set aside for a potential fine was "absolutely miniscule". 
The Sinn Féin TD also asked the bank representatives whether they thought €120m was enough compensation for customers, given the damage that was done. 
Mr Stanley said the compensation levels are part of the process and have been notified to Central Bank. He added that there is an appeals mechanism there and customers can also take an appeal to the courts.
Mr Doherty also criticised the bank for selling mortgages to "fast and loose" vulture funds. 
Ms Howard said the bank would not judge any mortgage holder that had fallen in arrears but added that it was hard to work with customers who found themselves in arrears but who were not engaging with it.
The chief executive of Ulster Bank also told the committee that capital requirements set out by regulators here will reduce the amount of lending it can do into the Irish market.
Ms Howard said that rules set out mean that over the coming years the bank will need to increase the capital it holds up to a point where it has enough for the full amount of loans that are not performing.
"That capital is then tied up and we cannot use it to support loan growth which would contribute to the Irish economy," she said. 
Ulster Bank has made progress on reducing  its non-performing loans down to just over 10%, Ms Howard said, but added that more work needs to be done to reduce that further. 
But, she added, the lender's priority is to work with customers to put in place long term, sustainable arrangements so that as many customers as possible can remain in their home and paying off their mortgage. 
Ms Howard said the bank has completed its identification of all customers impacted by the tracker mortgage controversy and she apologised sincerely for the mistakes in the bank's past.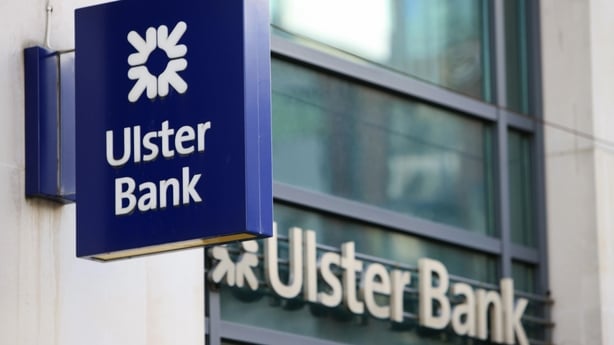 She said it does not anticipate any new or additional tracker customers to emerge at this point and redress and compensation payments have been made to all those it has contact details for. 
However, the review identified other issues relating to errors on the accounts of business and mortgage customers, understood to be a reference to the fact that while many customers were impacted negatively by the tracker controversy, some actually benefited.
These issues will be resolved by the middle of this year and end of this year respectively, she added.
Jane Howard said Ulster Bank's strategy is to leverage its parent Royal Bank of Scotland to build a stronger, safe and sustainable bank. 
New mortgage lending increased last year by 13%, Ms Howard said, to €1.13 billion, with a further €1.4 billion loaned out to business customers.
She also told the committee that the bank intends to participate in the Government's new Future Growth Loan Scheme. 
The Ulster Bank CEO said the bank is using hi-tech solutions and a blend of digital and physical banking methods, because that is what its customers want. 
In the first quarter of this year, she claimed, mobile payments and transfers rose 31% on the same period last year. 
The company also has five mobile banks, and has invested in 41 of its branches. 
Ulster Bank's culture is being transformed, she added, to one in which customers are consistently at the heart of everything it does. 
"We in Ulster Bank have learned many lessons, we got things wrong, we are fixing mistakes from the past and learning from them," she said. 
"We are absolutely committed to rebuilding trust with our customers and with Irish society. We recognise that we have much to do and we are changing, we are making different decisions today from those that we may have made in the past," she stated. 
Ms Howard also welcomed the introduction of the Senior Executive Accountability Regime and said she knows from her own experience working in the UK how such a regime can make a difference to promoting stronger accountability, ethics and culture. 
She emphasised the importance that she and her leadership team put in the tone coming from the top of the bank and has committed to completing the Institute of Bankers Professional Diploma in Leading Cultural Change & Ethical Behaviours in Financial Services, and to sit on the board of the Irish Banking Culture Board. 
She also said that while Brexit is top of mind for many customers, for many others labour shortages are a bigger issue. 
A bank-wide Brexit response programme has been put in place, she stated, to assess the impact of Brexit on the firm and to develop contingencies for a range of different scenarios including a "no-deal".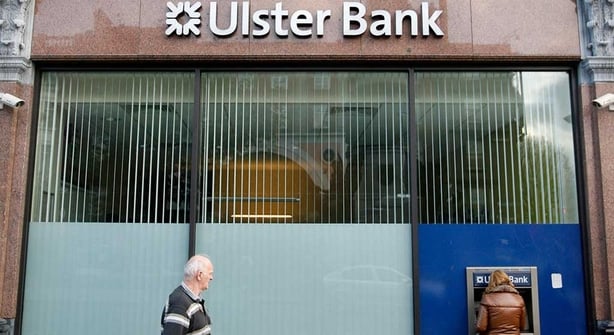 Ulster Bank officials today defended recent increases to its bank charges, with its chief executive Jane Howard said it was "moving with the market". 
Last month the bank introduced fees for day-to-day transactions like direct debits, ATM withdrawals and contactless transactions.
Ms Howard told the Finance Committee that the increases were made as a result of a commercial decision and they remain under review.
According to Ms Howard, Ulster Bank customers are now charged based on their usage, adding that they can still choose their preferred way of banking.
She also said that Ulster Bank has no plans to close any more of its 88 branches here, adding that the bank continues to invest in its current network.