Sales in the grocery market here hit record levels as shoppers spent €208.2m in the Easter week alone, new figures show.
This helped the overall sector grow by 4.1% in the 12 weeks to April 21, the latest figures from Kantar show.
Consumers spent a total of €44m on Easter eggs leading up to Easter Sunday, while fresh lamb generated sales of €29m.
The figures also reveal that SuperValu saw a return to growth in the 12 week period, which means that all the major retailers are once again on an upward trajectory.
Dunnes Stores continued to hold the biggest market share of the country's supermarkets in the 12 week period - 22.2% - as it posted sales growth of 6.1%, the highest increase it has seen since November 2016.
Douglas Faughnan, consumer insight director at Kantar, said that Dunnes continued to push towards premium items through its Simply Better collection and partnerships with specialists like James Whelan Butchers and Sheridans Cheesemongers.
He said the average price paid at the retailer is up 1.9% on last year, which generated an extra €10m in sales.
Meanwhile, Tesco's growth of 2.8% is its strongest of the year so far and it now has a market share of 21.8%.
Kantar noted that Tesco's own label offer now accounts for 47% of its sales and is increasing at 4.3%, boosting the retailer's overall performance.
---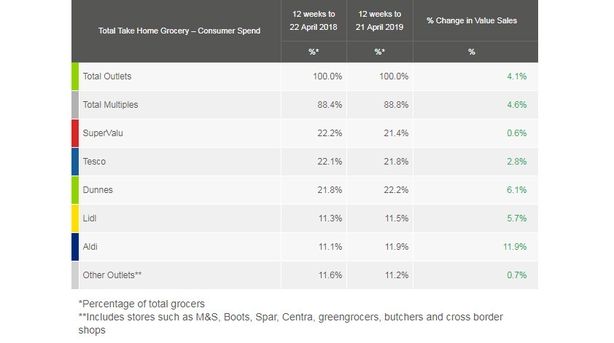 ---
SuperValu's return to growth this period was booosted by a robust performance in fresh food. Kantar said that fresh lamb, fish and beef sales were up by 13.2%, 12.8% and 11% respectively and the retailer's market share stands at 21.4%.
Today's figures also show that Aldi and Lidl, while continuing to perform strongly in Dublin, are making major gains outside of the capital as well.
"Growth of 18% for Aldi in the Connacht and Ulster region was the strongest increase recorded by any retailer in any one region, while Lidl's 13% growth in Munster makes it the fastest growing grocer in the southern provinces," Mr Faughnan said.