The rate of inflation rose above 1% for the first time in six years in March, according to new figures from the Central Statistics Office.
The CSO said that consumer prices, which have been broadly flat since 2012, grew by 1.1% on an annual basis in March.
More expensive energy costs in March pushed the consumer prices index to the highest annual level since February 2013.
Prices were 0.8% higher month-on-month, the CSO added, on the back of higher transport costs and more expensive clothing and footwear.
The CSO said that costs in March for housing, water, electricity, gas and other fuels were up 4.3% on an annual basis, mainly due to higher rents and mortgage interest repayments as well as more expensive electricity and home heating oil prices.
Prices in restaurants and hotels increased by 3.6%, while prices for alcoholic beverages and tobacco were 3.1% higher in March compared to the same time last year.
---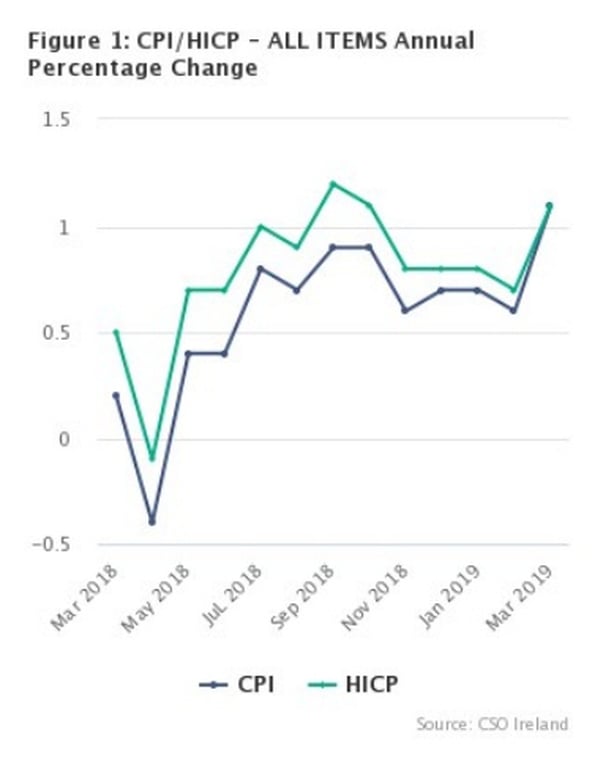 ---
But March also saw lower prices for furniture, non-durable household goods and household textiles, while motor insurance premiums also fell.
The CSO said a cut in the prices of appliances, articles and products for personal care were partially offset by higher prices for hairdressing salons and personal grooming establishments.
Cantor Fitzgerald economist Alan McQuaid said that even with the inflation rise in March and despite strong economic growth, there is as yet little sign of sustained pressure on the prices front.
He said this appears to be the same story across the euro zone, suggesting that the European Central Bank will be in no hurry to increase interest rates.
The economist said that oil prices will be critical in determining the headline inflation outlook over the next 12 months or so.
But they remain volatile and hard to predict given the uncertainty over OPEC supply and geopolitical tensions in the Middle East, and there are also question marks over global demand," he added.