The rate of growth in residential property prices continued to slow in February, the latest figures from the Central Statistics Office show. 
The CSO said that residential property prices nationwide rose by 4.3% in the year to February. This compares with an increase of 12.5% the same time last year and was the lowest rate of growth since August 2013.
Dublin residential property prices rose by 1.4% in the year to February - the slowest pace since late 2012. Dublin house prices rose by 1.1% and apartments by 1.8%. 
The CSO said that the highest house price growth in Dublin was in South Dublin at 3.1%, while the lowest growth was in Dublin City at 0.9%.
Meanwhile, residential property prices around the rest of the country were 7.5% higher in February, with house prices up by 7% and apartments rising by 14.7%. 
The region outside of Dublin that saw the largest rise in property prices was the Mid-West with growth of 14.1%, while the smallest rise was recorded in the Mid-East at 2.9%.
The CSO noted that property prices nationally have increased by 81.3% from their trough in early 2013. 
Dublin residential property prices have risen 92.8% from their February 2012 low, while prices in the rest of Ireland are 77.8% higher than at their trough in May 2013. 
Today's figures also show that consumers paid a mean price of €292,179 for a home in the 12 months to February. 
Dublin's mean price of €445,813 was the highest in any region or county. 
Within Dublin, Dún Laoghaire-Rathdown had the highest mean price in the region at €624,194, while South Dublin had the lowest at €363,084. 
---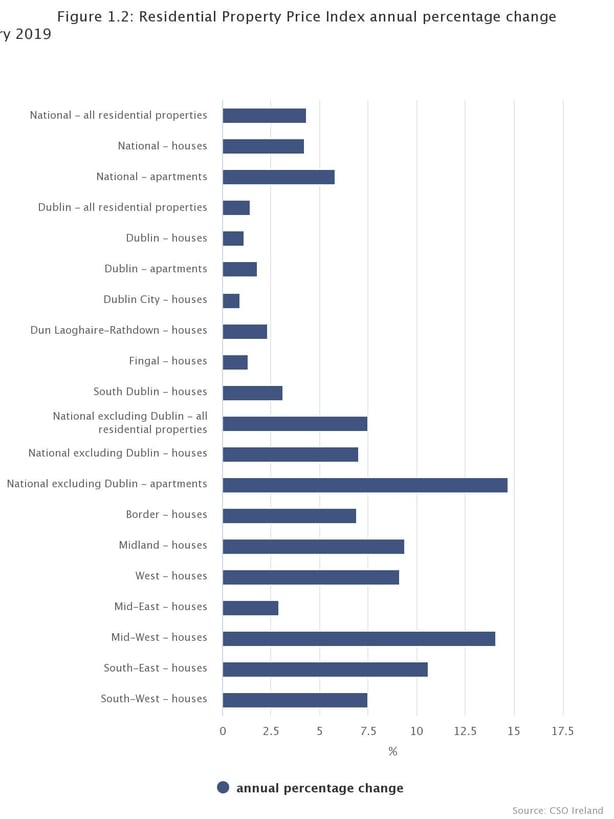 ---
Outside of Dublin, the Mid-East was the most expensive region, with a mean price of €292,587. 
Wicklow was the most expensive county in the Mid-East region, with a mean price of €355,791 and the second most expensive county in Ireland after Dublin. 
The Border region was the least expensive region in the year to February 2019, with a mean price of €136,934. 
And Longford was the least expensive county, with a mean price of €108,861. 
Today's CSO figures also showed that existing homes accounted for 82.8% of the property bought in February, down 2.2% compared to the same time last year. 17.2% were new dwellings, a decrease of 7% on last year.
Lack of supply key issue for housing market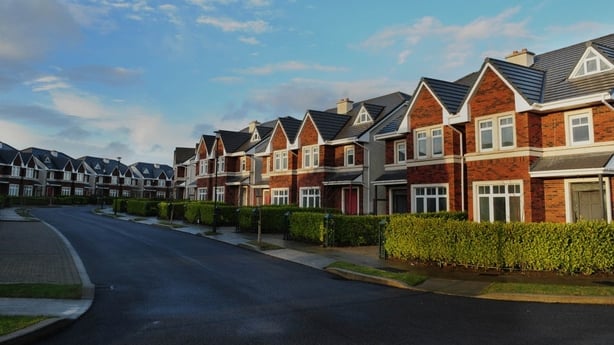 Commenting on today's figures, Cantor Fitzgerald's economist Alan McQuaid said that lack of supply remains the key issue for the Irish housing market and first-time buyers continue to be priced out of the market. 
Mr McQuaid said that subsidising purchasers through tax breaks is not the answer. 
But he noted that new supply is coming on stream. Last year a total of 18,072 new dwellings were completed, a 25% increase on 2017, and while this is forecast to rise to around 23,000 in 2019, it is still below the estimated figure of 35,000 a year needed to meet demand in the short-to medium-term.
The economist said that as we wait for more houses to be built, residential property prices will continue to rise, although there is now clear evidence that house price growth has started to ease, especially in Dublin. #
"Still, we see house price growth staying in positive territory on a year-on-year basis for a while yet. The biggest rise is likely to come from outside the capital, with the asking price for houses in more expensive areas increasing at a slower rate," he stated.
Goodbody economist Dermot O'Leary noted that transactions grew by 5% year on year in the first two months of 2019, but this was completely driven by non-household buyers  - institutions and housing associations. 
The economist said that non-households accounted for 38% of new home transactions in the first-two months, up from 25% in the past twelve months. 
"This is likely to be partly reflective of the growing influence of the Build-to-Rent sector in Ireland, with institutions increasingly buying up new stock. Given the shortage of rental stock, this demand is a part of the solution, but may be picked up domestically as a displacement of first time buyer demand, " Mr O'Leary said.