UK consumers have carried on spending despite their "Brexit fatigue," Tesco said today, as a forecast-beating rise in profits confirmed a turnaround at Britain's biggest retailer.
Celebrating its 100th year, Tesco is deep into a recovery plan under chief executive Dave Lewis after a 2014 accounting scandal capped a dramatic downturn in its fortunes.
"After four years we have met or are about to meet the vast majority of our turnaround goals," the former Unilever executive said. "I'm very confident that we will finish the job this year."
The 2018-19 results reflected revamped relationships with suppliers, lower prices versus major competitors, simplified and better quality product ranges and improved store standards.
Dave Lewis said customers had responded well to the company's "Exclusively at Tesco" brands, with 84% of them trying the products.
The improvements have helped Tesco steer a steady course through a period of industry turmoil, as the UK prepares to leave the European Union and as Tesco's two biggest competitors try to merge to become the new industry number one.
Lewis said almost every assumption made when he set recovery targets had been up-ended by events such as Brexit, which has caused the pound to fall and a deepening political crisis.
Customers were suffering "Brexit fatigue", Lewis said, but were not changing their shopping habits or stockpiling.
"We've not seen any softening (in consumer confidence)," he told reporters. "We've not seen any discernable change in buying behaviour through the fourth quarter or indeed into the early part of this year."
While Brexit was not impacting customers, the effects were being seen on Tesco's balance sheet as steps to secure supplies hit working capital.
"We have been proactive where we can in taking some provision if there were to be a difficulty; that impacts on the timing of the working capital in the business," Lewis said.
"It's dry, non-perishable items where it's possible for our ourselves or our suppliers to hold stock," he added.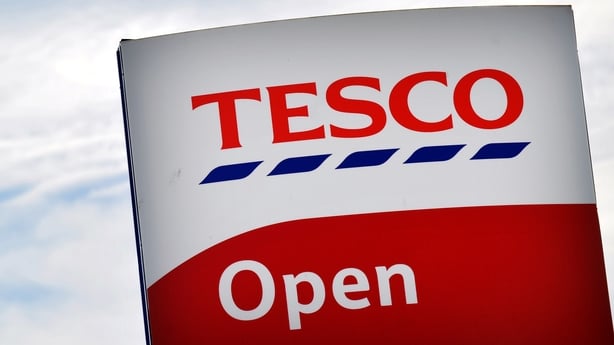 Aside from working capital, Tesco beat market forecasts for profit, and was firmly on track to meet its margin goals.
Operating profit jumped 34% to £2.21 billion for the year ended February 23, while the company declared a dividend of 5.77 pence per share, up 92%.
The company also reported a 28.8% rise in annual pre-tax profits to £1.67 billion.
Like-for-like sales increased by 2.9% over the 52 weeks to February 23.
Tesco said its Irish like-for-like sales grew by 1.3%, adding that in a competitive market, it continued to make good progress during the year, growing volumes across all food categories.
Group sales rose 11.5% to £56.9 billion and Tesco recorded its 13th quarter of like-for-like sales growth in its main UK market with a 1.7% rise in the final quarter.
The operating profit margin was 3.79% in the second half, excluding Tesco's acquisition of wholesaler Booker, Lewis said, "comfortably within" the 3.5-4% target range set for this financial year.
As part of efforts to position Tesco to meet the challenges of a rapidly changing market, Mr Lewis forked out £3.7 billion to acquire cash-and-carry business Booker and launched Jack's, a discount chain that will supposedly rival the German discounters.
However, January also saw Tesco announce that up to 9,000 jobs are at risk across its head office and stores as part of a major cost-cutting drive.