Irish tourist service providers are being urged to take steps to attract more visitors from China in order to offset any drop in numbers coming here from the UK after Brexit. 
Fáilte Ireland is running a series of workshops around the country that aim to teach people about what tourists from China want when they visit Ireland. 
"Irish businesses are very much interested in finding out about the culture," said Wynne Liu, CEO of Emerald Media and trainer at the seminars. 
"We come across so many challenges, such as language barriers, do we know their culture, do we understand their body language and how can we better provide them with a pleasant experience?"
The half-day programme offers attendees introduction to the language, cultural background and an introduction to the Chinese economy. 
They also get instruction and tips on how to use Chinese social media, particularly WeChat, which is the most popular platform in that country but is different to Twitter and Facebook. 
Fáilte Ireland aiming to woo more Chinese tourists to Ireland pic.twitter.com/feNHzoInDl

— RTÉ Business (@RTEbusiness) April 9, 2019
In 2017 there were up to 75,000 visitors came from China to Ireland, up from 44,000 in 2014. Fáilte Ireland projects that by 2025, that figure will have grown to 175,000. 
The growth is being propelled by the addition in recent times of a number of direct flight services betweek China and Ireland.
"People are looking for experience," said Ms Liu.
"Of course everyone coming here will have a top-ten must see places in Ireland and then they will go sight seeing.
They will also take the opportunity to enjoy some authentic Irish cuisines. Food also plays a very important part in the Chinese culture so people like to try different things."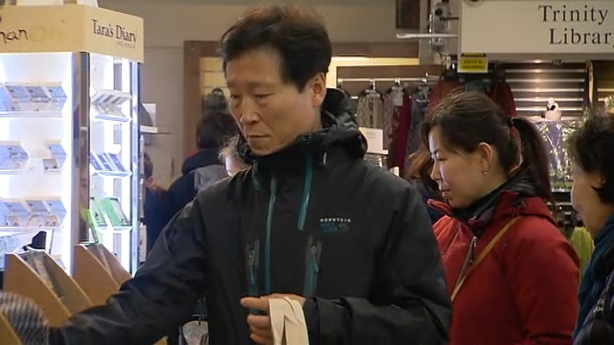 "Mid-to-upper class we find that they will travel more frequently throughout Europe. They also will spend some time doing alot more shopping buying souveneirs, Irish made produce as well as presents and gifts and bring them back to present to their friends, colleagues or families."
Among those who have attended the training are representatives from Roly's Bistro, the popular restaurant in Ballsbridge in Dublin. 
Although it continues to offer traditional Irish food made from local ingredients, the restaurant has translated its menu to make it easier for Chinese guests to understand. 
The establishment also offers Chinese diners the option of having the food served the way they are used to at home. 
"They like to eat family style, they like to have everything together," said Paul Cartwright, Head Chef and director at Roly's.
"They bring starters, soups, main courses at the same time and they all tuck in together."
Food is also presented in a way that offers a story, both behind the dishes themselves as well as what they are served in and on.
The restaurant is also starting to connect with Chinese visitors using WeChat.
The Chinese market is seen as holding huge potential, with 116 million people travelling worldwide from China in 2016, spending $160 billion in the process.
However, Fáilte Ireland says it is important that those providing services here are aware of the cultural differences between Ireland and China.
For example, the number four is associated with death in China, so hotels are advised not to allocate rooms with this number in them to Chinese guests. 
However, 6, 9, and 9 are considered lucky and should be assigned where possible, according to the tourism organisation. 
Those working in gift shops are also urged to offer small gifts with every purchase by a Chinese visitor as it is considered a sign of appreciation for their custom. 
"Photo-stops" are also a good idea at visitor attractions as Chinese tourists love to take photos, it says.
Meanwhile, a record 26 Irish tourism companies – including 13 first-timers – will travel to China next month, to take part in Tourism Ireland's 2019 sales mission. 
The companies were briefed today by Tourism Ireland, ahead of the sales mission which will take in four major Chinese cities.