New figures show that Dunnes Stores held its place as the top supermarket brand in Ireland for the seventh period in a row with a market share of 22.3% in the 12 weeks to March 24. 
Kantar noted that Dunnes' current run in pole position tops the five consecutive periods when it topped the rankings between November and February last year.
"This goes to show that its appear to shoppers is broadening beyond the key Christmas period when is has historically performs strongest," commented Douglas Faughnan, consumer insight director at Kantar. 
Tesco and SuperValu recorded relatively flat performances with the rest of the market with market shares of 21.2% each. 
Growth of 0.6% at Tesco was underlined by a strong performance in fresh produce, Kantar noted.
It also said that SuperValu has been impacted most by the last Easter this year. The Musgrave-owned retailer was number one in the supermarket rankings this time last year and usually performs strongly in the run-up to Easter. 
"The retailer also benefited disproportionately from the adverse weather brought on by the "Beast from the East" 12 months ago, as shoppers topped up via their local and independent stores rather than larger supermarkets. 
"The absence of such circumstances this year has likely contributed to SuperValu's sales decline of 0.4%," Mr Faughnan said.
Meanwhile Aldi broke through the 12% market share barrier for the first time to bring its share to 12.1%, with younger shoppers boosting the retailer.
Its discount rival Lidl now accounts for 11.8% of the market - its highest share since August last year. Brands continue to play a major role in its success and now account for just under one out of every 10 items bought.
Today's figures from Kantar also show that the Irish grocery market grew by 3.2% in the 12 weeks to March 24.
It said that despite the late Easter this year, and the absence of the extreme weather which provided an unexpected boost for some retailers in 2018, the strong overall market performance was only marginally slower than 12 months ago.
---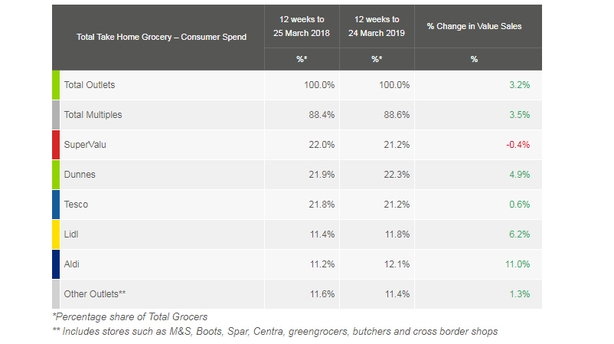 ---
Douglas Faughan also predicted that Spring 2019 could be a bumper period for Irish supermarkets.
He said that the late Easter has not stopped retailers promoting seasonal favourites - Easter is still two weeks away but already over half of Irish households have stocked up on Easter eggs.  
"So far the grocers have been focusing their efforts on multibuy offers to encourage shoppers to splash out a little earlier than they usually would.  This has proven successful to date - over €15m has been spent on Easter eggs in 2019 and 41% of these have been bought as part of a deal," he added.