The chief executive of Bank of Ireland has said the bank is keeping all options on the table when it comes to reducing its non-performing loans level further.
Francesca McDonagh said the bank is committed to lowering its non-performing loans and has improved its position over the past year by almost a quarter.
She said the lender is making good progress, but it has been very explicit that is open to putting all options on the table and is working hard to look at ways to potentially get to the target of 5% or lower quicker.
She added that the company is focusing on buy-to-let mortgages in particular in this regard.
Bank of Ireland said its Non-Performing Exposures (loans) reduced by 24% to €5 billion last year and its NPE ratio now stands at 6.3% - the lowest among Irish bailed-out banks.
Ms McDonagh said that keeping capital land-locked in a non-performing portfolio is not necessarily the best way to grow the business, serve customers and provide a return to shareholders.
In relation to a Sinn Fein private members bill that seeks to require the consent of borrowers before their loan could be sold to a so-called "vulture fund", she said the bank thinks the proposed law would ultimately be bad for the Irish consumer and Irish economy.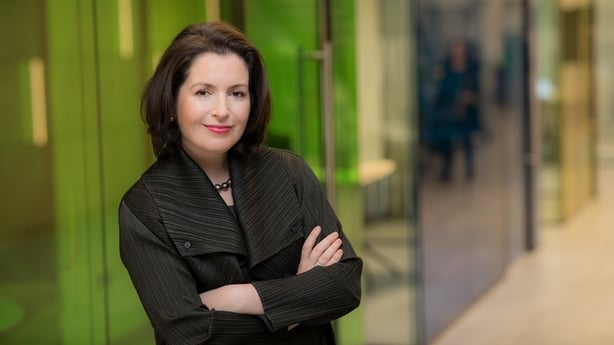 The CEO said the draft law would conflict with ECB policy, result in capital being trapped and disincentivise the very competition many politicians would want to encourage.
In relation to the tracker mortgage controversy, Ms McDonagh said of the 9,700 customers who were identified as being impacted, 98% have received offers from the bank.
She said 333 people have not yet been found by the bank as they have moved away.
A huge amount of resources had been put in place to deal with the matter, the CEO said, adding that it should never have happened.
She said the bank has been working very hard to remedy the situation for its customers and a lot of lessons have been learned.
Bank of Ireland's pre-tax profits for 2018 fall by 2% pic.twitter.com/CnGAavFh7N

— RTÉ Business (@RTEbusiness) February 25, 2019
The issue had opened up a much wider conversation around culture, she stated, and the bank has now established values it wants to be judged by.
Regarding the ongoing cap on banking executive's pay, Ms McDonagh said the bank has been consistent in its view that there needs to be normalisation of pay in the context of normalisation of the sector.
She said the issue is less about the €500,000 cap, and more about the ability to vary pay.
She added that banks are not looking for special treatment, but just want to be competitive.
Ms McDonagh said banks are not only competing with each other for talent but also with Silicon Docks style firms.
She said the bank is not losing large numbers of staff over the issue, but retaining and attracting talent in the sector is becoming more difficult.
Asked about Fianna Fáil's desire to see limits placed on variable mortgage rate increases, Ms McDonagh told RTE News that in general the bank would want any regulation to protect customers but also enable greater competition between banks.
She said Bank of Ireland feels that restrictions in terms of how it prices and differentiates itself are ultimately in the best interest of the economy or for customers in the long-term.
In relation to Brexit, the bank boss said there is a huge amount of uncertainty around it and therefore she can not be definitive about it.
But she added that she could be certain that the bank is ready for whatever type of Brexit unfolds.
"We feel we have an all-weather strategy to deal with whatever Brexit might present for us as an institution", she said.
She also added that the bank is ready to support its customers, including through the setting up last week of a €2m all-island Brexit fund.
Ms McDonagh said 40% of the bank's assets are in the UK, predominantly in mortgages, and its strategy is predicated on some sort of deal and an appropriate transition period coming through.
In relation to the ongoing transformation of the business, Ms McDonagh said she has always said there will be fewer people working in the bank in the future than there were in the past, although it does not have specific future targets.
She said it has reduced its number of employees by 500 or 5% in past year, but added that this does not mean it is not recruiting.
Bank of Ireland's results miss expectations - sending its shares lower
Earlier, Bank of Ireland reported a smaller than expected pre-tax profit for last year and missed analyst expectations - sending its shares as much as 8% lower.
Bank of Ireland said its pre-tax profits for the 12 months to the end of December eased by 2% to €835m from €852m in 2017.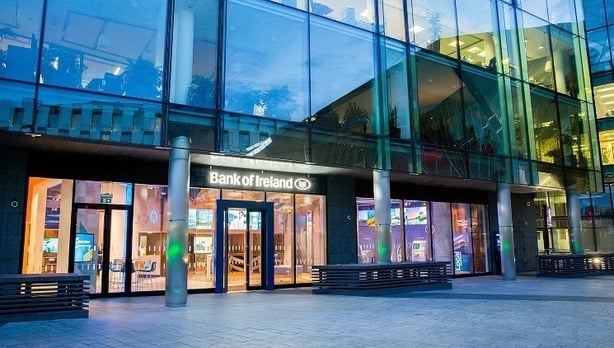 Its underlying profit before tax fell by 13.3% to €935m from €1.078 billion in 2017 as its net interest margin - the difference between the average rate at which it funds itself and lends on to customers - fell to 2.2% from 2.29%.
Bank of Ireland's NIM had stood at 2.32% 18 months ago, as the bank took advantage of the fast growing Irish economy.
The bank forecast a further decline to around 2.16% this year, though its chief financial officer Andrew Keating said it would return into "the 2.20s" in subsequent years, driven by an expected rise in interest rates.
In today's results statement, Bank of Ireland said its operating income for last year decreased by €244m to €2.805 billion from €3.049 billion the previous year.
The bank said its Irish mortgage business performed strongly with €2.3 billion of new residential mortgage lending, up 17% on the 2017 levels.
Bank of Ireland said it had a "stable" market share of 27% and it re-entered the Irish mortgage broker market in the last quarter of 2018.
In today's results statement, the bank said it would increase its dividend to 16 cents from 11.5 cent in 2017 - which marked its first dividend in a decade.
Its operating expenses fell by 3% last year to €1.852 billion as the bank said it continues to focus on reducing operational costs while maintaining its investment in regulatory compliance, technology and business growth.
Bank of Ireland grew its loan book in 2018 for the first time in a decade, but said competition in the UK mortgage market, which accounts for almost a third of its total book, contributed to a fall in its net interest margin (NIM), a measure of lending profitability.
We need your consent to load this rte-player contentWe use rte-player to manage extra content that can set cookies on your device and collect data about your activity. Please review their details and accept them to load the content.Manage Preferences

"2018 has been a year of business growth, improved efficiency, and progress in the transformation of our culture, systems and business model," Francesca McDonagh said.
Ms McDonagh said the bank is on the right track to achieve its 2021 commitments and she said she was pleased with the results for 2018.
"We are mindful of the risks and uncertainties relating to Brexit and the global economy. However, we are committed to making further progress against our strategic objectives in the year ahead," the CEO added.
Meanwhile, Sinn Féin's finance spokesman has said it is past time that banks, including Bank of Ireland, were made to pay tax on their profits.
The bank is obviously more than capable of paying its tax and should be made do so.
"At 12.5% the corporation tax due on €935 billion would be €117 million but the government has given the banks a facility to write off their tax liabilities over years through losses carried forward," said Pearse Doherty.
"In other cases this period is predicted to be as long as twenty to thirty years."
"The ordinary taxpayer facing his or her tax bill must look and wonder how the banks get away with it."
Mr Doherty proposed a 25% cap on the losses that can be carried forward coupled with a ten year time limit.